Innovating every day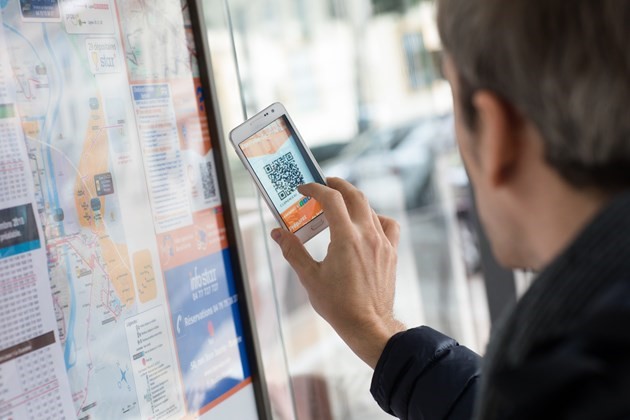 The diversity of the issues facing local areas and populations inspires us every day.
We cultivate innovation and form numerous partnerships to imagine innovative transportation offers adapted to our times, to make journeys more fluid, to bring distant populations closer together, to adapt the offer to demand, to make transportation ever more ecological, to develop the solutions and services of the city of tomorrow in line with the travel and mobility needs of each individual.

If you are a start-up or an innovative player who aims to revolutionize mobility, we are interested in meeting you: click here to apply.
2023 Innovation Day at Station F
Innovating to respect the environment
Faced with the challenges of climate change, public health and changes in the world of work, cities are looking for solutions to relieve congestion… and that means a new deal in terms of transport: electric and shared solutions, reintroduction of the tramway, long-term rental bicycles, unmotorized and public transport, all designed and combined to create innovative intermodal offers.

We innovate in the way we create fluidity in the journey. For example, we are experimenting with different ways of bringing your bike on board.

We support local authorities in accelerating the energy transition of their fleets by gradually deploying efficient, responsible and sustainable fleets using alternative energies and energy sources: electric, hydrogen, hybrid, bioethanol, biodiesel, biogas, solar… We are committed to drastically reducing the use of fossil fuels by deploying alternative energies, but also by experimenting with new energies such as hydrogen.

We are also innovating in the way we adapt cities and networks to the consequences of global warming.
Innovating to develop talent
Transdev's wealth is that of the women and men in the company who empower freedom to move each day. Attracting the best talent and helping them grow within the company are among our priorities, along with the promotion of diversity, equity and inclusion, which are levers of attractiveness externally and of our employees' commitment internally.

In all our job lines, we help our employees to grow throughout their careers through a comprehensive HR policy. We are innovating in the way we present all the facets of our jobs to an ever-wider audience.

An example of digitalization made in Transdev, the MobiMe application is the tool for connected drivers. It contains the essential business tools, from planning to messaging, embedded on cell phones or terminals in the depots and offices.
MobiMe 
MobiMe is a mobile application dedicated to drivers, to facilitate exchanges between operators and drivers and to engage drivers in the overall performance of the company.
Find out more
Virtual reality eco-driving platform
Transdev allows drivers to record their own driving on a mobile platform, then to replay it in virtual reality, by putting themselves in the place of a passenger. They can thus see for themselves the effects of their driving.
Find out more
Innovating to assist our passengers
Innovation at the service of passengers is at the heart of Transdev's concerns, and the company continues to emphasize the digitalization of the customer experience in order to ensure that passengers can travel easily in the best conditions of quality and safety.
The Group is developing innovations to improve safety on board for everyone. For example, to improve the safety of women who are alone or accompanied by young children, we have introduced a special button on many networks that allows them to get off the bus between two stops.
We are building tomorrow's mobility around the needs of travelers. That's why we are constantly innovating to improve our knowledge of our customers, to better communicate with them and serve them better. Connected mobility also means digital solutions that simplify daily travel for everyone.
Innovating to enable mobility for all
Deploying mobility for all. Because mobility is essential for studying, working, accessing healthcare and meeting others, it must be imagined and deployed for everyone, regardless of age, gender, disability, etc.

We are innovating in the way we help our passengers to understand the different transportation networks which are available to them. Immersive learning systems, or "mobility platforms" in urban or remote areas, are one example.

As far as passenger information is concerned, we are developing an inclusive approach to take into account all of our passengers – particularly those with visual, hearing or cognitive disabilities or who simply do not speak the local language. This involves taking all senses into account, which contributes to better understanding for everyone.
Electric bicycle and scooter service, which connects the Chantrerie district (which is not crossed by public transport lines) to nearby bus services.
RogerVoice
Leader in the field of telecommunications for the deaf and hard of hearing, Rogervoice makes customer relations accessible.
Innovating to make journeys safer
The uses and developments in our cities are evolving rapidly: meeting zones, semi-restricted lanes, a significant increase in the number of cyclists, the presence of pedestrians, etc. Innovation for the benefit of our passengers and staff is at the heart of Transdev's concerns, and our priority is to ensure that passengers can travel easily in the best conditions of quality and safety.

In addition to training our staff and passengers, we are experimenting with technological solutions to detect dangerous situations and assist driving: new generations of sensors and intelligent cameras, on-board buttons, etc.

Innovation allows us to integrate so-called artificial intelligence technologies to provide decisive assistance in our daily work as an operator for passengers and communities.