Customer relations and satisfaction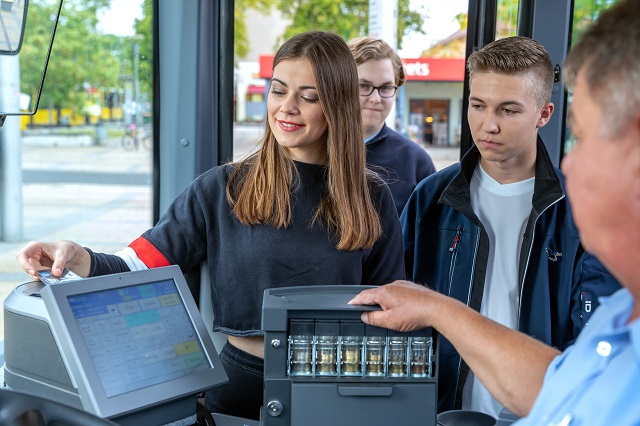 Guaranteeing passenger satisfaction requires quality customer relations, regardless of their point of contact.
At each stage of their journey, passengers can ask Transdev agents for reliable and personalized solutions to the different situations they encounter: information on tickets, mobility services or traffic information.
In addition to the agents who accompany customers in the field during their journeys, the Customer Relations Centers operated by Transdev are a privileged contact channel for answering all mobility questions and handling complaints, which enable the networks to continuously improve their quality of service.
Qualified agents, supported over the long term and made aware of the customer culture.
Field agents and customer advisors are trained at every stage of their career and benefit from regular coaching sessions that reinforce their customer culture.
During their initial training, agents learn how to:
Welcome customer requests in a friendly manner and apply the key elements of a quality response;
Know the structure of the networks, the mobility offer in the local area, the business experts and how to alert in case of emergency;
The procedures to follow, as well as the processing indicators.
The development of skills and the improvement of advisors are ensured by self-assessments, individual progress plans, coaching by supervisors and regular workshops to share best practices.
Providing quick and accurate answers thanks to efficient procedures and tools.
In order to ensure a high level of uniform service for all its passengers, Transdev has developed and implemented management procedures for each contact reason which allow to:
Specify the elements of the customer request;
Follow the resolution of the customer requests step-by-step;
Easily find the information to be consulted in order to provide the appropriate response to the customer;
Explain to the customer how their feedback will be used in our continuous improvement plans.
In addition, the CRM tool deployed by Transdev makes it possible to reduce response times, to keep a record of all responses and to ensure that requests are monitored over time.
Corrective action plans to improve service quality and customer satisfaction
Our analyses of requests for information and complaints from customers focus on understanding the causes and recurrences of dissatisfaction. These analyses are translated into concrete action plans that are monitored over time.
This approach is resolutely results-oriented and the monitoring of action plans and the measurement of results are an integral part of the continuous improvement process.

Finally, a user club with the Customer Relations Center managers of the Group's networks is held monthly to draw inspiration and share best practices in France and abroad.