Virtual reality eco-driving platform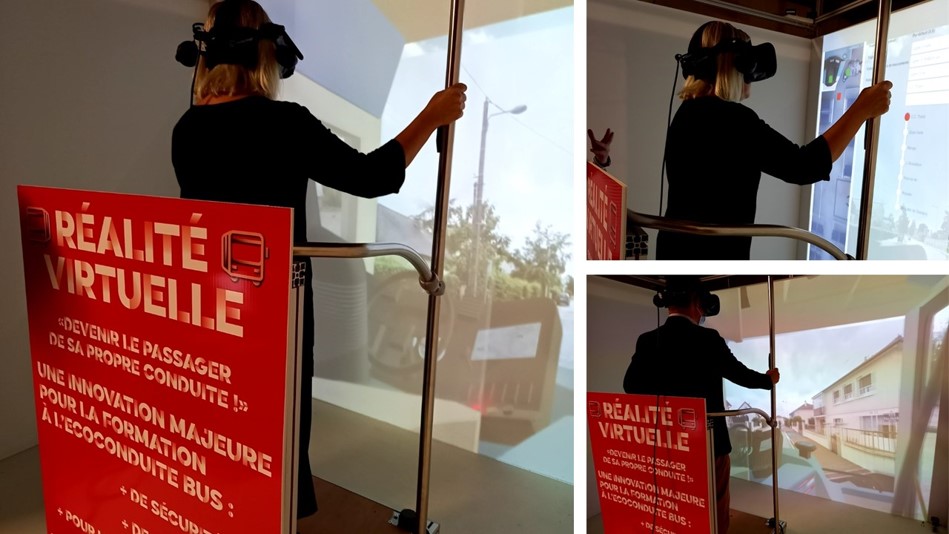 Transdev STAC Chalon sur Saône, tests and deploys innovative tools to train drivers in eco-driving, in an efficient and sustainable way.
in order to do this, Transdev has developed a solution based on virtual reality, which allows drivers to record and replay their own driving on a mobile platform to see for themselves the effects: reduced CO2 emissions, smooth driving and passenger comfort, and passenger safety during sensitive crossings. The progress made in terms of eco-driving and on-board safety is obvious.
The objective of this project is to design a tool allowing bus drivers to relive the experience of a passenger with the help of a motion simulator and an immersive application at scale application. This tool aims to raise bus drivers' awareness of :
eco-driving ;
passenger safety;
and passenger comfort.
The bus journeys are recorded using a smartphone application specially developed for the occasion. This application allows to film the trip while recording the bus movements thanks to the sensors embedded in the smartphone.

Once recorded, a bus journey can be replayed in a motion simulator. This innovative application can also be coupled with data from the on-board system (SIRAC or other supplier), which provides real-time fuel consumption as well as the acceleration and deceleration of the vehicle, which affect its consumption.
The objective is clear: to build a new generation of eco-driving training in a very real experience and to anchor in a perennial way the behavior adapted to the environment, with the bus drivers, in order to generate a decrease in consumption in the long term, to contribute to the reduction of greenhouse gases and the reduction of polluting emissions.