Veolia Transdev celebrates its light rail in Reims
The light rail ran through the city centre showcasing its vibrant colors. And 70,000 people tried out this new mode of transport before the beginning of its commercial operation, on Monday 18 April.
Traveling through the city from North to South on over 11 km, this first line is the new backbone of public transport of the metropolitan area. The network has been completely redesigned for a better network throughout the urban communities, integrating itself in a transformed city. Now, thanks to a new system of contactless ticketing, the access to the vehicles flow more easily, and the validation of the tickets transport is faster.
18 trains, with an increased frequency (6 minutes maximum) and a service provided from 5.30 am to 0.30 am, allow serving nearly a third of the population of the metropolitan area. A significant increase of the patronage of more than 40% is expected. The goal: to shift from 30 to 42 million trips per year on average.
The Reims project is one of the first tram projects subsidized by the Grenelle de l'Environnement to be born. Its construction involved advanced technologies: the light rail systemruns on a ground-level power supply, and the tracks installation was fully automated (installation of 300 meters of tracks instead of 20 meters per day), a first in France.
Reims light rail system: what's new for the city?
Improved connections: of the city centre, cultural and sports sites, several railway stations, and the main university campus.
Competitive services supply and an increased frequency.
A more attractive city: in outskirts as in the city centre, due to the planting of 100,000 square meters of grass and near 2,500 trees, the station embellishment with the help of the designer Sovann Kim.
Faster public transports: an innovative contactless ticketing, onboard all bus and light rail vehicles, and in the P+R car park.
Faster rechargement of tickets: with the new pass "Grand R".
In September 2011, the reloading of the pass Grand R on the Internet site, via the CITURA online shop.
A city more and more intermodal: with bicycle facilities located near the intermodal stations and P+R.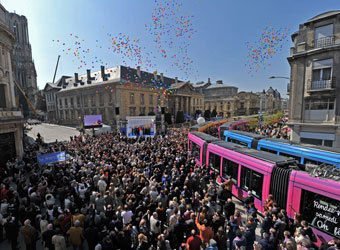 The Citura network in main figures
70,000 inhabitants served
11.2 km (light rail line)
A visual identity based on 8 colors
3 P+R set
2 high speed train
stations and 4 local train stations served