The European ZEB (Zero Emissions Bus) Conference focuses on technology and policy-related topics affecting zero emission buses and coaches. The 2023 edition will be held from 9th to 12th October alongside Busworld Europe.
This 5th edition of the European ZEB (Zero Emission Bus) Conference will bring together operators and authorities, policy makers, manufacturers, and experts from across the bus and coach industry.
Transdev speakers will attend two panels:
On October 9th at 15:00, Antoine Grange, CEO Europe at Transdev, will share how we are working to meet ambitious targets to decarbonise their global bus fleet.
On October 12th at 10:00, Manoela Ferreira de Araujo, Energy Transition Referent at Transdev, will bring her experience supporting the energy transition of Transdev's networks in France through strategic studies and deployment of zero emission technologies.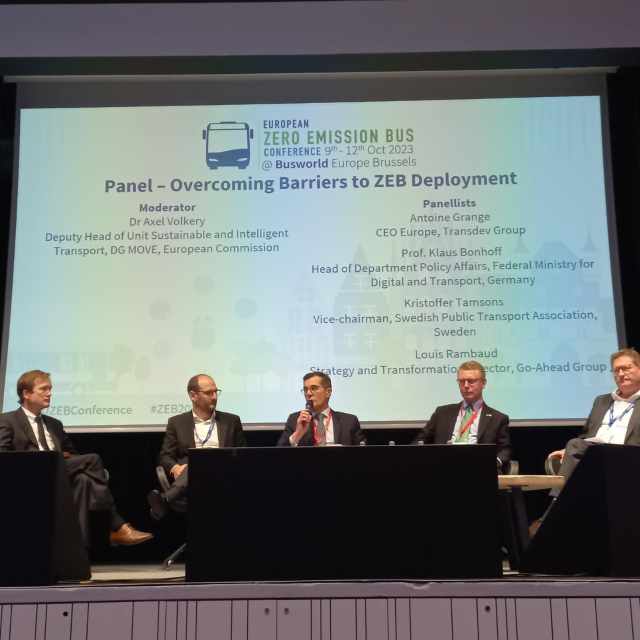 Antoine Grange shared his valuable perspective on the challenges faced in scaling up the deployment of  Zero Emission buses, in light of the revised CO2 emission standards for heavy-duty vehicles targeting all new city buses being zero tailpipe emission from 2030.

Here are some of the key points underlined:
Air quality and decarbonization: the pressing issue of deteriorating air quality in European cities, and how it is driving the adoption of ambitious measures to decarbonize everyday mobility, with public transport playing a central role in reducing greenhouse gas emissions;
Investment in low emission transport: local authorities are investing billions in low-emission transport modes, marking the sector's transition to low-carbon energy, albeit at significant cost
Balance between standards and support: the importance of setting standards that are not too restrictive for sectors such as public transport, while advocating support for local industries to reduce dependence on imported spare parts.
Taking local needs into account: the need to take local characteristics and needs into account, promoting technological neutrality. Many authorities are opting for biogas as a transitional solution due to its cost-effectiveness and ease of deployment.

Those reflections highlight the complex challenges and considerations in the journey towards zero-emission city buses. Collaboration and thoughtful planning are essential if we are to achieve our goals of lower emissions and more accessible public transportation.