The North Yorkshire town's leading bus operator, The Harrogate Bus Company, today unveiled its five year vision for public transport in the North Yorkshire town – bringing the latest low emissions technology alongside a host of improvements to every aspect of bus travel.
Innovations including fleet-wide free WiFi, USB power and next stop announcements are some of the items, successfully pioneered by the company's flagship The 36: Riding Redefined service linking Harrogate with Leeds and Ripon, and will spread wider across the town's buses.
There'll also be smoother integration with other bus and rail services, stronger relationships with local authorities, key employers, schools, retailers, hotels and visitor attractions to encourage more people to switch to the bus.
Advanced ticketing systems including contactless payment and beacon touchless mobile apps, as well as a revolution in website and mobile customer communications, will complete the company's five year vision for Harrogate.
We have a five year vision to transform the bus experience in Harrogate. Our plans have the potential to grow usage by doing more of what customers and non-users tell us they want. Creating a low-emission bus town, involving the world-class development of new generation, 100% electric buses is just one element of our strategy, which also includes further innovations in ticketing and new standards in ride comfort including fleet-wide WiFi, USB charging and next stop information. We are also keen to enhance our role in the Borough by developing advanced relationships with councils, employers, schools, retailers and attractions, as well as improved integration with other transport providers by bus, rail and air. This vision is all about us enhancing our quality offer, that should reduce demand for the private car, meaning less congestion, improved freedom of movement and a better environment across Harrogate and beyond.
Alex Hornby, CEO of The Harrogate Bus Company's parent Transdev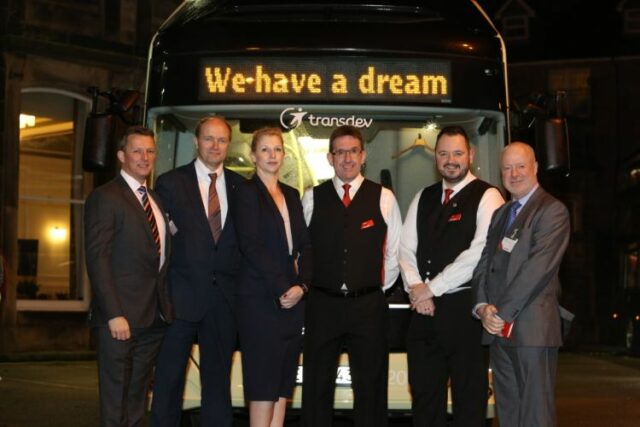 At today's launch of Transdev's five year vision, a Volvo electric bus brought specially to Harrogate from Gothenburg in Sweden was on display to demonstrate its game changing new technology ahead of the launch of a new generation of similar vehicles in the North Yorkshire spa town next year.
Thanks to a £2.25 million winning bid for Government funding by parent company Transdev, the new buses – powered by 'next negation' opportunity charging technology – will revolutionise travel as Harrogate becomes the first town in the UK to use the system.
Also in the spotlight at today's launch a £250,000 investment by Transdev to fit buses on the busy Route 1 Harrogate – Starbeck – Knaresborough with emission reduction technology, and upgrade them with new interiors featuring USB power, fast and free WiFi, countdown to departure destination screens, audio visual announcements and much more.
These buses will help us to make Harrogate a UK leader in clean, green public transport. We're delighted to welcome a zero-emission 100% electric Volvo bus, currently in use in Gothenburg, here today, to illustrate how these groundbreaking new vehicles will set the pace for public transport in Harrogate. We've worked closely with Volvo on the specification for these amazing new buses, which will be powered using three charging units to be installed in Harrogate bus station. Each bus will receive power from one of the overhead masts via a pantograph fitted on top of the bus, enabling completely emission-free journeys from start to finish.
Transdev CEO Alex Hornby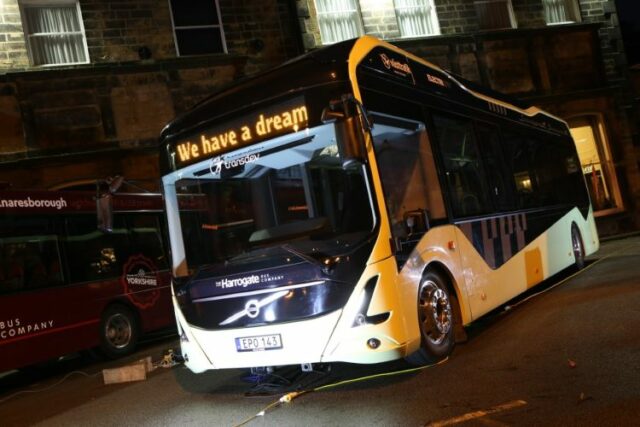 Using funding from the Government's Low Emission Bus Scheme, The Harrogate Bus Company will introduce eight 100% electric powered new buses next year.
The new electric vehicles will enter service on routes serving the Bilton, Jennyfield and Pannal Ash areas of Harrogate.
The planned introduction of the new electric buses is being welcomed by Transport Minister and Harrogate and Knaresborough MP Andrew Jones.
Harrogate is set to become a low emission bus town. Transdev have shown huge ambition: the technology for this is a first for the UK. There were many bids from large organisations for this funding, and it is a testament to the powerful case put forward by Transdev, and supported by Harrogate Borough Council, that we have won £2.25 million of that money to make this electric vision for transport in our town a reality.
Knaresborough MP Andrew Jones
Transdev subsidiary The Harrogate Bus Company became the only commercial bus operator in Yorkshire to secure direct funding for new vehicles in 2016 under the Low Emission Bus Scheme, set up by the Government to encourage adoption of world-leading electric bus technology.
Full information on The Harrogate Bus Company's services is available online at http://www.harrogatebus.co.uk
The Harrogate Bus Company
The Harrogate Bus Company operates local routes in Ripon and Harrogate, as well as longer distance services linking the area with Leeds, York, Boroughbridge, Pateley Bridge and Knaresborough.
New electric buses similar to those displayed at today's event in Harrogate are expected to enter service with The Harrogate Bus Company on its routes 2A/B, 3 and 6 in 2018.
The Harrogate Bus Company's flagship The 36: Riding: Redefined Ripon – Harrogate – Leeds route was relaunched in January of this year with a £3.3 million investment in 14 new twin-deck buses, specially designed for the route and offering an impressive range of features, including free superfast 4G Wi-Fi, USB power points at every seat, plush leather coach seats upstairs, and personal tables with quilted leather seating and a chill-out area on the lower deck.
Newly upgraded buses operate up to every seven minutes on the Harrogate Bus Company's popular Route 1 between Harrogate, Starbeck and Knaresborough. Each vehicle is packed with customer-friendly features including new interiors, free superfast Wi-Fi and USB power points at each seat. All ten of the buses have also been fitted with emission reduction technology: the £250,000 investment by parent company Transdev further demonstrates its commitment to providing cleaner, greener transport.