Australia's first 100% sustainably powered full-size electric bus will soon be operating on South East Queensland streets in Australia.
Transdev in Australia will operate a new 39 seat e-bus on TransLink routes throughout Brisbane and the Redlands from early 2021 under a two-year partnership with the Queensland State Government.
Transdev Australasia's CEO Luke Agati said the bus would be 100% powered by sustainable solar energy, with the company installing a new Green Mobility Megawall, comprising of 10 Tesla Power Walls, and Solar network at its Capalaba Depot in Brisbane.
Averaging more than 280 days of sunshine per year, Queensland well and truly lives up to its reputation as the Sunshine State, and we are excited to be bringing this clean, green, modern vehicle to Brisbane and the Redlands.
Globally, Transdev is a leader in zero-emissions mobility, and work is underway to introduce new fleet and innovations to Australia and New Zealand over the coming months.
Research, testing and design for our future zero-emissions fleet will be led from our newly opened Maintenance and Engineering Center of Excellence, also based at our Capalaba Depot.
Luke Agati, Transdev Australasia's CEO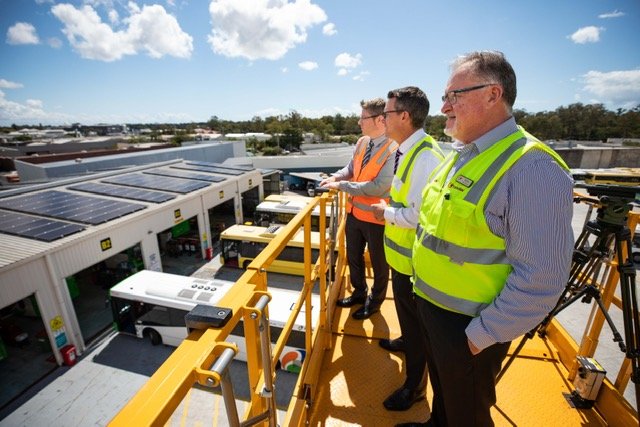 Don Brown, Member of Parliament for Capalaba toured Transdev's Capalaba Depot. He said the new e-bus would help to power Queensland's e-mobility industry and support jobs. He added "Not only will the new vehicle be powered by the more than 159,000 kWh of local sunshine collected on-site each year, but it will be Queensland research and experience that will shape the design and introduction of new zero-emission fleet, both here in Queensland, and elsewhere across the country."
Global economies have been hard-hit by COVID-19, and both Australia and Queensland have not been immune.
But Queensland's ongoing health response means we can continue our plan for economy recovery, which means creating jobs on major transport projects like new, more energy-efficient buses, our $371 million smart ticketing system and the Eastern Transitway.
The Palaszczuk Government is committed to collaborating with industry on the transition to electric vehicles and infrastructure and services, and Transdev's decision to lead its e-mobility operations from Queensland is a recognition of the expertise and innovation that we have here in the Sunshine State.
Don Brown, Member of Parliament of Capalaba