The electric shuttles that have been running on Campus Valla in Linköping, Sweden since February 2020 now also operate in the adjacent residential area Vallastaden. On September 17, there was an official inauguration with special guests.
The buses are part of a rolling research platform called Ride the Future, which investigates autonomous shuttles can become part of the modern city's sustainable mobility solutions.
Some examples of research projects that are ongoing within Ride the Future are studies of how visually impaired persons can travel by bus and how older persons and children experience traveling from different aspects. More technical studies are also being carried out, such as how the buses work in different weather conditions and how they can be used to collect environmentally hazardous particles.
The shuttles have been named after residents and school children
During the inauguration, the names of the shuttles were also revealed. Name suggestions have been given by residents and staff at Vallastaden's nursing homes and from students at Vallastaden's school leisure center. The winning names were Reza and Busse.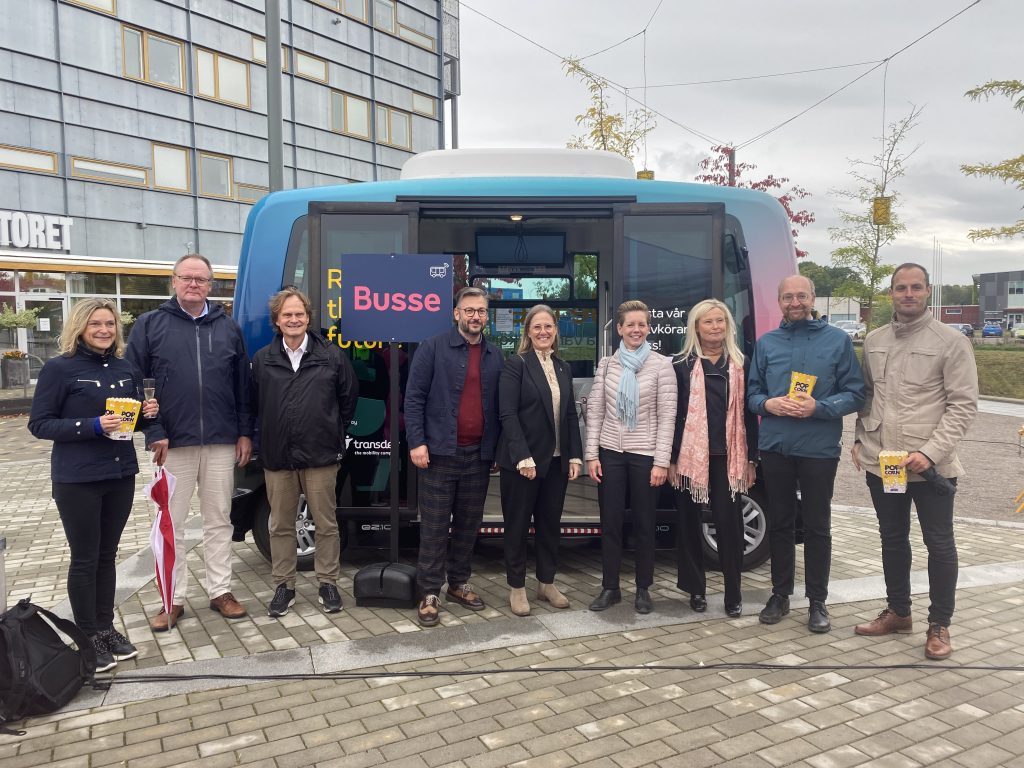 A rolling research platform
During the inauguration, representatives from the project organization were present and told about the project. Moderator was Lena Miranda, CEO of Linköping Science Park.
"Results from research and development must be taken care of by the actors in the transit sector in order to make an impression. Therefore, good collaboration between research performers, problem owners and stakeholder needs to be an integral part of the research activities. It is also a prerequisite for us at VTI to be able to fulfill our task of developing new knowledge that can be used to develop the transport sector in the direction specified by the transport policy goals," said Tomas Svensson, CEO of the Swedish National Road and Transport Research Institute (VTI).
"Today we have several projects around the world where we test autonomous vehicles, but what is unique about Ride the Future is that we test two autonomous vehicles from two different manufacturers in the same ecosystem, so they communicate with each other. « Test arenas » on the open street, in a real situation, with a wide flora of actors such as the Ride the Future project, are important for being able to develop the public transportation of the future. When the restrictions are released, we hope to soon be able to welcome passengers on board again and gain more insights around the customer and user perspective," stated Anna Höjer, CEO of Transdev Sweden.
"At RISE, we research, among other things, electrification, automation and digitization, which is a prerequisite for this type of transport. We are very happy that this initiative is both so broad with relevant actors, and may continue for a longer period, because even though we have come a long way, we still have some left, and we need to collect relevant data to further develop the whole concept . Demonstrations in a real environment are also important to create acceptance and understanding of the self-driving buses," said Matilda Lindström, Head of Mobility and Systems at Research Institutes of Sweden (RISE).
"It's really cool to see how collaboration between a large number of different actors creates the conditions for the autonomous buses to become a reality. The buses serve both as a unique research platform and show that the future already exists in Linköping. We have a long history of successful companies that have developed solutions in connected vehicles and vehicle safety. Linköping Science Park's broad network and opportunity to act as a neutral platform for collaboration provides a good foundation for this type of project," said Daniel Kullgard, Project Manager at Science Park Mjärdevi
"As a partner in the project, Akademiska Hus provides land and stops so that this rolling research platform can be implemented in the best way. It is very gratifying that the project is now being expanded with a new route and that Campus Valla will thus have an (even) clearer connection with Vallastaden. As property owners, we look forward to continuing to contribute to this exciting and unique project that brings us a bit closer to a society where public transport can be done with self-driving vehicles," stated Mikael Hagerfors, Strategic Property Developer at Akademiska Hus.
"Linköping is the place where ideas become reality. This applies to both the municipality, the university and the region. Linköping is at the forefront when it comes to both technology and smart mobility and it is very noticeable in this particular project that I follow with excitement," said Muharrem Demirok, Municipal Councilor of the Environment, Climate and Community Development.
"Several things are interesting now that the project is entering a new phase through the expansion to Vallastaden. One thing is that the bus is getting closer to more users, off campus and where more people live and work. In addition to being able to study how autonomous systems can be connected to a larger transport system. Then there are plans to connect freight transportation and parcel deliveries, which is close to my heart as a logistician. It is also inspiring for our students to see that we are at the forefront and we expect that much of the knowledge and experience that is developed will be included in the teaching also in the future," said Magnus Blinge, Adjunct Professor, Linköping University
"Public transportation is an important part of regional development and then public transit itself also needs to be developed, which I think this project is a good example of," said Martin Tollén, 1st Vice Chairman of the Traffic and Community Planning Committee, Region Östergötland.