A strengthened, more efficient transportation system
Tramway enables the network to better connect all the passengers of the city.

The tramway's commissioning is part of a comprehensive restructuring of the community's transportation network, begun in 2010 by Transdev's Marketing & Territories Department working with the local teams of CTPO (Compagnie de Transport de la Porte Oceane). The network had been the focus of a Transdev Mobility Observatory review in November 2010 to better understand the needs and expectations of users and non-users and identify challenges and opportunities for increasing the system's attractiveness. An objective was set to make every effort to offer a true alternative to private car and increase customer loyalty.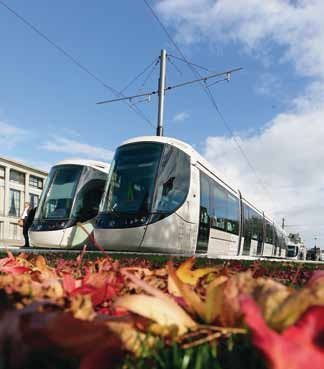 The new network, renamed LiA, includes:
5 High Service lines (Tramways, Funicular, High Service Bus) with a frequency of 5 to 15 minutes and extended hours,
6 main bus lines, connecting to the tramway and regional express lines andlines with downtown connections, with frequencies from 15 to 25 minutes,
5 additional regular service bus lines offering local service and connections with the essential downtown lines,
1 simplified, customized line serving the industrial and port area,
2 transportation on demand lines: Fil'Bus for surrounding towns linked with the regular network and Mobi'Fil for persons with reduced mobility,
A new range of services: Park and Ride, bike parks, automatic transport ticketing… and soon an e-shop.
This restructuring enables:
effective integration of tramway and bus,
a "conveyor" effect, across the urban area,
an extension of the coverage and frequency of service, responding to the Observatory results showing that 85% of travelers are willing to walk five minutes further to use a bus passing twice as frequently,
better connections between the main towns of Le Havre's metropolitan area,
more efficient connections to large shopping centers, new neighborhoods and the Port and Industrial zone.
13 km for two north-south lines
23 stations,
1 tunnel of 575 meters,
22 train cars and 250 people per car,
56,000 trips per day,
1.1 million kilometers annually
19 km/h commercial speed kilometers annually,
90,000 people living within 5 minutes of a station,
1 unique electronic ticket valid on all new network services,
50,000 m2 of grass, 500 additional trees
28 tons of CO2 per day avoided through electric system