The girl was waiting in a car. It was parked in a street that stretched along the narrow bend of the county road, falling steeply, piercing the countryside's rich thickness. It was dark ... to be continued
by Jonie
Whether waiting for the bus, the metro or making connections, for 20, 10, seven or even two minutes, passengers can find the free works by new authors to match their mood: humor, crime, romance, life moments, fantasy and youth.
Smart Trip provides literary content adapted to waiting times and short trips in urban or suburban settings, accessible while on the move via a mobile site provided by participating Transdev networks. Transdev partnered with Short Edition, community editor for short stories and emerging talents, which publishes online everything that can be read in one sitting of less than 20 minutes.
Last night, Papa became serious as the Babybel was taken out of the fridge.'Okay kids, it's decided, we leave for the sea tomorrow morning'...to be continued
by Mr Zag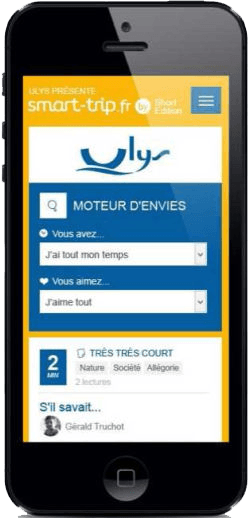 At the bus stop, a seven-minute wait…
Via a smartphone,Connect to the mobile site:
"[Name of network].smar-trip.fr"
Specify the desired playback time: seven minutes
Choose type of literature: short texts / graphic novel / poems / short stories. – The app offers a selection of works that can be read in seven minutes…
In liking and sharing opinions on Facebook, travelers give new writers the opportunity to be published.
Smart Trip offers readers the opportunity to comment, to share their opinions and vote for their favorite stories. Through their involvement, the readers help promoting new authors.
Transdev looks constantly toward SMEs and start-ups in multiple areas to improve the passenger mobility experience, including traveler information, transforming waiting time or well- being. Through this partnership with Grenoble start-up company, Short Edition, Transdev is enabling networks to become providers of literature with Smart Trip
Christine Colon, Transdev Innovation Director
A subsidiary of Caisse des Dépôts and Veolia Environnement, Transdev is one of the world's leading public transportation companies.
Transdev advises and assists local authorities, from pre-project to daily operations of public transit systems to project management. With 81,000 employees in 18 countries, the company operates 41,000 vehicles and 22 light rail networks. Transdev generated revenues of 6.6 billion euros in 2013.
Established in 2011, Short Edition is the community editor of short stories that can be read in less than 20 minutes (new, graphic novels, poems and micro-novels). All works are available free on short-edition.com and mobile apps (iOS and Android). Short Edition has already published 2,800 authors, attracted 92,000 subscribers and generated more than 3.5 million readings.
Winner in the Innovation and Culture category of the Spring 2013 digital (National Council for the Internet) and 2014 National Day of Service (Ministry of Industry), Short Edition saw Express Roularta Group become a shareholder with its initial public offer at the beginning of 2014.