Washington, D.C., Feb. 16, 2021 — The Commission on the Future of Mobility (CFM), a coalition of business, technology and policy leaders focused on creating opportunities through the sustainable, equitable movement of people and goods around the world, today announced new commissioners and its initial five primary research focus areas.
Mary Nichols, former Chair of the California Air Resources Board (CARB), joins Ford's Jim Farley to co-chair the Commission with its initial research and policy focus on energy resources, freight, data stewardship, infrastructure and passenger transportation. CFM has added several additional commissioners : Bhavish Aggarwal, Chairman and Group CEO of Ola Cabs, Jacques Aschenbroich, Chairman and CEO of Valeo, Craig Jasienski, President and CEO at Wallenius Wilhelmsen, Carl Pope, Principal at Inside Straight Strategies and Avinash Rugoobur, President of Arrival, LTD.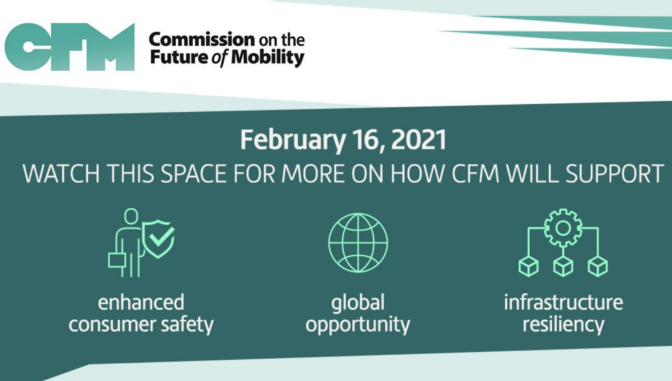 Five key focus areas to drive global mobility transformation
In its February plenary meeting, CFM commissioners aligned on the following five focus areas to address the global mobility gap:
Energy Resources: Sustaining the shift towards alternative energy resources, including electrification and hydrogen, to reduce transportation's impact on climate change.
Freight: Addressing supply chain fragmentation and the impact of consumer preferences on emissions, technology and access.
Data Stewardship: Leveraging data thoughtfully to power connected mobility.
Infrastructure: Replacing legacy infrastructure with new approaches designed for emerging trends and models enabled by technology.
Passenger Transportation: Evaluating the impact new technologies, business models and approaches to mobility have created for passenger transportation.
CFM will lead select public events that complement and inform the Commission's work and allow the Commission to grow the audience for its eventual advocacy. Research and advocacy across America, Europe, and Asia will be completed on a quarterly basis, with energy resources as CFM's first focus area.
As expressed by Thierry Mallet at the Commission on the Future of Mobility conference, we are proud to be part of an initiative that represents unique opportunity to design policies and priorities to accelerate the change, to help building a more inclusive and sustainable mobility.
I am excited to join this Commission which gathers people from very different backgrounds and experiences with the objective of designing policies for a more sustainable and equitable mobility. There is already an existing shift toward renewable energy solutions in public transportation, as well as an increased development of shared and multimodal mobility; we clearly need to accelerate on this path to meet the ambitious challenges of the Paris Agreement and the Green Deal in Europe.
Thierry Mallet, Chairman and Transdev Group Chief Executive Officer
About The Commission on the Future of Mobility (CFM)
The Commission on the Future of Mobility exists to create opportunities through the sustainable, equitable transportation of people and goods. Using research and advocacy, CFM provides new data and methodologies to drive innovative policy for a cleaner environment, enhanced security, economic opportunity, safety and access. A global coalition of business, industry, technology and policy leaders, CFM encourages and harnesses the benefits created by an interconnected transportation system to shape policies that deliver exponential outcomes for consumer safety, global opportunity and infrastructure resiliency.