"Take the train in new company", that's the slogan developed by Thello, the new rail company created by the partnership signed on 19 January this year between Veolia Transdev and Trenitalia. Courtesy of a comfortable, economical and passenger-friendly solution, Thello offers a real alternative to the existing offers.
… Because this world in which we live is constantly moving and accelerating, the soothing pace of a night train offers an escape from this frenzy.
… Because transfer time has to be added to travel time, Thello brings all the convenience and comfort of a journey from one city centre to another.
… Because travelling abroad with the family represents significant expenditure, Thello offers very attractive night travel rates, saving the cost of hotel accommodation into the bargain.
Booking in just a few clicks
From 17 October, passengers will be able to make their bookings on the www.thello.com website, right up until the time of departure. This can also be done by telephone on + 33 (0)1 83 82 00 00, between 08:00 and 21:00, 7 days a week.
In a few short clicks, passengers can select their direct route between Paris, Milan and Venice or, if they wish to extend their trip via a connection for a Trenitalia service to any other destination in Italy, such as Florence, Bologna or Rome. They then choose their level of onboard comfort from among the 3.
With the ticketless solution, there is no need to print out your ticket or collect it from the station before departing. The reservation number (PNR) can simply be given to the staff on board.
Passengers only need to arrive 30 minutes before departure.
The Thello service: Paris-Milan-Venice from 35 euros
Each day, Thello will be offering one departure from Paris (Gare de Lyon) to Venice and one departure from Venice to Paris (Gare de Lyon). Trains in both directions will serve Paris, Dijon, Milan, Brescia, Vicenza, Padova and Venice (Mestre and Santa Lucia).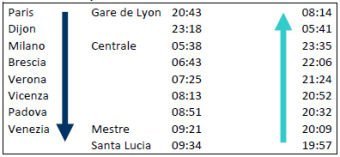 2012 Service Timetable - valid from 11 December 2011
The service offers a choice of 3 levels of onboard comfort:
the most economical, in a 6-couchette compartment,
in a 4-couchette compartment,
in a cabin with beds and a basin, for 1 to 3 passengers. These cabins have an electric razor socket and each passenger is offered a toilet bag.
Subsequently, a fourth level of comfort will be available:
the most comfortable, in a compartment with beds and a washroom with shower, for 1 to 3 passengers
And for women travelling alone, couchette compartments are specially reserved for them.
New standards of onboard comfort worthy of an airline
Because a great trip starts even before you reach your destination, Thello places the accent on the quality of the reception offered by entrusting this service to renowned and qualified staff, LSG Sky Chefs, who provide catering for over 300 airlines all over the world.
On each train, the restaurant car consists of 36 seated places (9 tables of 4) for a pleasant meal with family or friends, with menus developed by major names from the world of regional and international gourmet cuisine.
A bar/take away area remains open throughout the journey, while in the couchette carriage, a mobile service selling sandwiches, drinks and miscellaneous items is provided for dinner as well as breakfast.
Breakfast served at table is included for passengers from the sleeping cars and as an option with a surcharge for passengers from the couchette cars.
Departure and arrival at Gare du Nord
Addition of an extra day to your break by arriving first thing in the morning
Minimisation of travel fatigue by resting during the journey
Use of travel time for dinner, relaxing and then sleeping
Saving on hotel costs by travelling at night
Selection of your level of comfort in the compartments
Benefit of travel from one city centre to another
Available at very attractive rates
Quality of onboard reception and service worthy of an airline
Travel as a family without worrying about baggage limits
Escape from the stress of the formalities imposed by air travel
Travel in total safety regardless of the weather conditions
Trenitalia is the railway undertaking of Gruppo Ferrovie dello Stato Italiane, the main rail operator in Italy. The company offers domestic and international passenger and freight rail transportation services. Since 2008 Trenitalia offers High-Speed passenger rail services in Italy under the brand Frecciarossa. In the last few years it has also expanded the boundaries of its transportation business portfolio, acquiring control of Netinera, formerly Arriva Deutschland Group, and the full ownership of TX Logistik in Germany.
Gruppo Ferrovie dello Stato Italiane
Gruppo Ferrovie dello Stato Italiane currently includes a staff of 80,000 people and operates more than 8,000 trains per day, carrying approximately 600 million passengers and 50 million tons of freight on a railway network of over 16,700 kilometres. Trenitalia rolling stock fleet consists of 43,000 vehicles including locomotives, passenger cars and freight cars.
Born out of the merger of Veolia Transport and Transdev, a subsidiary of Veolia Environment and Caisse des Dépôts, Veolia Transdev is the world's leading private player in the field of sustainable transport. Veolia Transdev advises and supports regional authorities, from the pre-project stage to the daily operation of public transport networks, including project management assistance. With 119,000 staff in 27 countries, the group operates 60,000 vehicles and 26 tram systems.
In 2010, Veolia Transport generated turnover of 5.7 billion euros, while Transdev's turnover was 2.5 billion euros.