In line with its initiatives in favour of the environment to reduce nuisance and pollution while reducing its climatic footprint, Nice Cote d'Azur airport is testing the first "opportunity charging" electrical bus.
Supported Nice Cote d'Azur's airport passenger transport operator Transdev, developed and patented by PVI, and funded by the ADEME, the French Environment and Energy Management Agency, this project concerns an ultra-fast charging system that supplies the bus on its journey, offering an environmentally friendly solution and low pollutant emission. From an environmental point of view, the WATT System enables the complete elimination of fine particles and prevents the emission of more than 43 tonnes of CO2 just during the trial period on a line such as that at Nice Cote d'Azur airport.
The major innovation of the WATT System is the vehicle's opportunity charging, which consists in supplying power from the bus stop pole (Totem) to the vehicle while passengers alight and get on. The WATT System makes it possible to overstep the limits imposed by battery-powered electric vehicles in terms of range and passenger capacity, while minimizing the urban infrastructure and energy requirements.
At each stop, during the passenger exchange time, i.e. approximately 20 seconds, a robotic arm on the bus roof automatically hooks up to an energy accumulator totem mounted on the urban furniture and powered by the existing electrical grid.
Once this is done, the bus battery will allow it to travel up to 800 meters, making it possible to reach the next stop where it will recharge again.
Incorporating the WATT System technology at Nice Cote d'Azur airport is a strong move in favour of innovation, one of our company's key concerns, and is naturally in line with our environmental policy, promoting future investments that are both economically wise, responsible and in favour of society. Aéroports de la Côte d'Azur is proud to test this world premiere between French partners, which underscores the excellence of our transport sector industry.
Dominique Thillaud, Chairman of the Executive Board of Aéroports de la Côte d'Azur
As a mobility operator, we must play a leading role in the energy transition. We contribute to it on a daily basis, by providing high quality public and private transport services, whose appeal will promote behavioural changes. For technological diversity and the transition to cleaner energies, we are implementing innovative and promising projects with the local communities whose mobility policy we support. Being involved in the testing of the WATT System with Nice Cote d'Azur airports and seeing the culmination of a wonderful piece of teamwork, which was successful thanks to the dedicated energy of the people involved, is extremely encouraging and stimulating. We will be able to test the system's usability and contribute to its development.
Laurence Broseta, France Transdev Director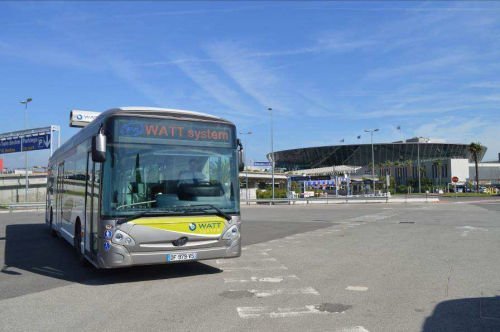 It is also the first trial in France in actual operating conditions on vehicles using opportunity charging. Transdev, a committed participant in the energy transition, whose long experience in multimodal management, operation of electrical mini- and midi-buses, new engine technologies including hybrids, eco-driving and the development of regional infrastructure, provides local authorities with solutions that take into consideration the conditions of use, operation, maintenance and financing of their public transport networks. Transdev supports innovative national and European projects in partnership with SMEs and start-up companies, celebrating French excellence in the field of transport to encourage the development of the mobilities of the future.
With WATT System, PVI proposes a major change to bus operators, through a solution that is easy to implement on existing lines and that can be incorporated in bus manufacturers' standard models. A world first: unlike other fast-charge solutions for electrical buses, WATT System requires no dedicated lanes, catenary, or electrical sub-station, nor heavy roadworks… Silent, clean buses; a solution that is easily implemented and is an economic model, thanks to the complete absence of fossil fuel costs: these are the solution's chief assets. The trial with Transdev and Nice Cote d'Azur airport to test the integration and performance of the WATT System technology is the final step in the validation process before production deliveries starting in 2016.
The project, initiated by PVI with its partners MDO and Robosoft, and supported since 2009 by the ADEME as an investment with future, has been performing non-revenue service runs since 17 October last to validate the system in actual operating conditions. The line equipped with WATT System will carry its first passengers from January 2015 and until the end of June, at which time the operating data will be analysed.
About Nice-Côte d'Azur airport
Nice Côte d'Azur airport is the second airport business in France, with 11.5 million passengers in 2013, 105 direct destinations and 53 scheduled airlines flying to 34 countries. Outside Paris, it is the only French airport to offer daily flights to New York and Dubai. Aéroports de la Côte d'Azur manages the Nice Côte d'Azur, Cannes Mandelieu and, since late July 2013, the Saint-Tropez, airports. It is Europe's Number 2 business aviation airport.
The French Environment and Energy Management Agency (ADEME) participates in the implementation of public policies concerning the environment, energy and sustainable development. To help them to further their environmental approach, the agency provides expertise
and consulting services to companies, local authorities, public authorities and the general public. It also helps finance projects, extending from research to implementation, in waste management, soil conservation, energy efficiency and renewable energy, air quality and noise prevention.
ADEME is a public institution supervised by the Ministry of ecology, sustainable development and energy and the Ministry of national education, higher education and research.
For over twenty years, PVI has designed and assembled in France, fully electrical industrial vehicles intended for urban applications and implementing enhanced solutions and systems. Through its products, the company has acquired an acknowledged know-how in the field of passenger transport vehicles, and urban electric mini- and midi-buses in particular. PVI has sold nearly 80% of the fleet of electric buses in service in France.