Connected Transportation on Demand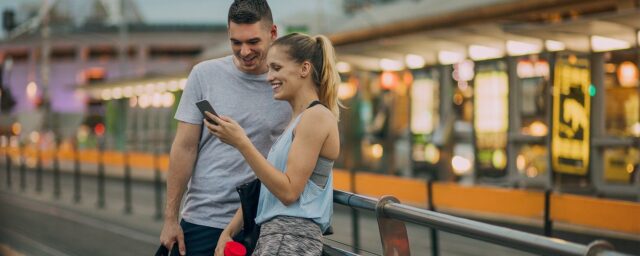 Extending public mobility services in time and space
Transportation on Demand (TOD) is a transportation service adapted to areas where the demand for mobility is diffuse, unlike urban areas: business zones, suburban areas, rural communities or even night services.
Our on-demand transportation solutions are set up to promote social cohesion and open up territories.
Complementary to, and integrated with, regular public transportation networks, they provide flexibility and freedom in daily mobility.
Dial-a-Ride, part of a long chain of mobility
Transportation on demand is part of a wider chain of mobility solutions ranging from trains to carpooling, and from tramways to bicycles. Transdev is able to provide its local authority customers with all possible solutions, in full multi-modal integration, to offer passengers a seamless journey.
A simple and intuitive customer journey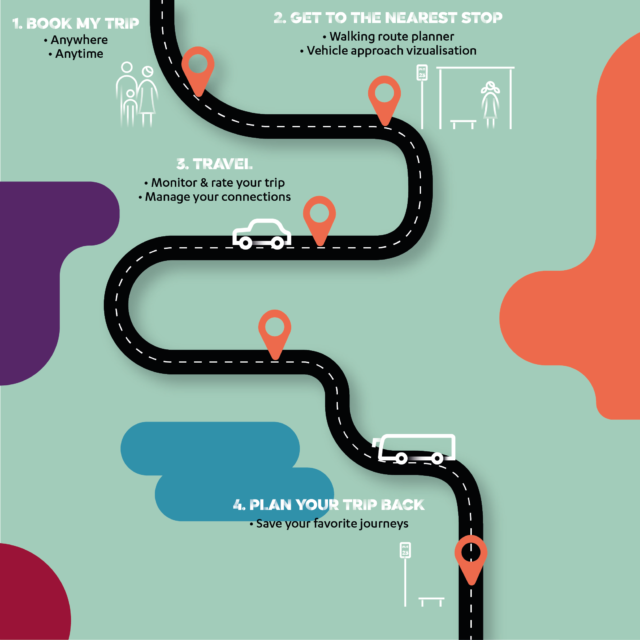 We were among the first to digitalize these TAD services. For more than 10 years, our teams have been developing technological modules for efficient on-demand transportation and a personalized, simple and intuitive passenger experience.
In concrete terms, Transdev's transport on demand (TOD) is :
More than 300 operations worldwide;
Algorithms for optimizing services, combined with a variety of reservation channels, adapted to the diversity of our customers: mobile application, website or telephone;
200 engineers in France, the Netherlands, the United States and Australia are continuously improving our solutions, testing new ones and developing dedicated applications and websites;
Teams that work to ensure that the product is well adapted to each territory and that it complements the existing network.
We work with local authorities to propose a "talor made" offer: the areas to be covered, the customers, the specifications of the on-demand transport network to be set up, are different each time. Our adapted solutions cover 4 types of needs:
stop-to-hub: to move from a stop in a defined area to one or more feeder points (usually an interchange)
stop-to-stop: to move from one stop to another stop in a defined area
flexi: to move from a stop on a regular line to a stop in a defined area and back
virtual line: to move from one stop to another on a defined line, only on demand
Integrate carpooling into the existing network
In order to offer mobility solutions that provide ever greater freedom and flexibility, we partner with the most successful start-ups to constantly innovate.
We offer a complementary carpooling service that integrates other modes of transportation.
The key? A complete multi-modal integration offering travelers a seamless journey.
Some iconic microtransit services
On-Demand Ferry in Sydney Harbour
With passenger satisfaction rate close to 95% and passenger numbers in excess of 3,300 passengers per month, the on-demand ferry we operate in Sydney Harbour is a success. This innovative service connects the Barangaroo hub with 3 new harbors. 
Mountain ToD in Grenoble
Saint-Pierre and Notre Dame-de-Mésage, two mountain towns with fewer than 2,000 inhabitants did not have public transit services. Transdev set up an entirely digital microtransit service allowing everyone to have a stop close to home.
« Flex » lines in the port of Le Havre
No more wasted time! The bus calls at stops only when necessary. Increased efficiency! Services are more profitable and personalized. By introducing an on-demand mobility service in the industrial port area, 100% of companies are covered, passengers have doubled and production costs have dropped by 30%. 
​
PTFlex, the integrated ToD service in the Netherlands
There are no fixed routes in our PTFlex services. You are picked up at the stop and time of your choice. You can share your journey with other passengers, but we guarantee your arrival time. With 15 operations and 22,000 passengers per month, these services have found their audience!
A 24/7 public service thanks to ToD
Transdev initiated "LiA de Nuit" in Le Havre, a 100% digital on-demand mobility service for night owls and workers. The result: twice as many stops served and year-round service, for no additional cost. LiA de Nuit has received awarded numerous awards.
Contact our expert

Yoann KIENNE
Chargé de Projets MaaS et TAD
+33 6 68 40 90 80
Contact mail
Fields marked with an asterisk are required.