Environmental solutions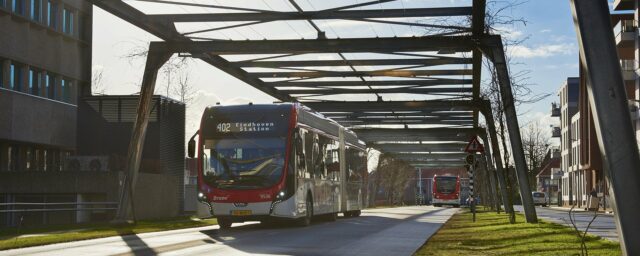 Electric or hybrid vehicles, multimodal travel solutions, innovative digital applications: we are engaged in the energy transition on a daily basis, with ever cleaner transportation solutions
Our priority: promoting the use of public transportation
Building sustainable mobility means, first and foremost, convincing as many people as possible to choose public transportation. To do this, our first mission is to offer a quality service, one that is both optimised and efficient in order to increase ridership.
Taking action for the environment
Because our role is key in the fight against climate change, our "Moving Green" strategy formalizes our commitments and our concrete actions for sustainable, low carbon mobility for all communities: our alternative fuel fleet is growing (electric, biogas, biofuels, hybrid, hydrogen vehicles), we recycle over half of our waste, each year we reduce our greenhouse gas emissions and our drivers are trained in eco-driving. Since 2016, we have brought our clients together around the issues of the ecological and energy transition in the context of the "Zero Emission Living Lab".
operated around Amsterdam Schiphol Airport and nearly
Within our Living Lab, we help public authorities identify the electromobility solutions best suited to their needs. Our objective? Raise awareness and encourage communities to transform their networks for a zero emission future.
Our activity creates value for all communities and the planet
Our mass transit offering helps to relieve highway traffic by being an alternative to the individual car and is based on innovative, sustainable solutions. Our fleet of electric, biogas, biofuel, hybrid, and hydrogen vehicles is growing, we offer soft modes such as Véligo, our bike sharing program in Paris region (a joint project with la Poste), our drivers are trained in eco-driving. Over half of our waste is recovered, and we reduce our greenhouse gas emissions each year.
covered by the Environmental Management System in 2020
Towards a climate-friendly transit network in Barcelona
Sustainable development forms part of the very lifeblood of the city of Barcelona. Since the creation of its Agenda 21 in 2002, the city has been committed to providing safe, sustainable and efficient transportation services for all. In 2000, Barcelona called on Transdev to launch two tramway projects. This ambitious challenge, with important technical constraints, allowed us to demonstrate our expertise.
Find out more
In Dublin, Transdev brings a green touch to the LUAS tramway
In Dublin, we have been supporting the city since 2014 to build a public transportation network with a low environmental impact. Raising awareness of travellers about CO2 savings, campaigns to save energy and natural resources, funding of research, etc. Our efforts have received multiple awards and are recognised by the ISO 14001 certification for the excellence of our environmental management.
Find out more
Nantes: a model for the energy transition
The city of Nantes is a pioneer in the implementation of clean transportation in France. We support it in the maintenance of its network by promoting the use of public transportation and the development of innovative solutions: river shuttle using hydrogen technology and the deployment in September 2018 of 100% electric bi-articulated buses. The Result? In Nantes, diesel vehicles represent today a small percentage of the bus fleet!
increase in Dublin between 2005 and 2016
increase in the use of public transportation in Nantes since 2000
Our culture: environmental management
We are engaged in the energy transition on a daily basis. We monitor our environmental impacts and are developing a quality approach to our processes and the labelling of our infrastructures: ISO 14001 certification of our networks.
To support the evolution of our fleet, we have brought together ten experts from our teams and created a specific, centralized unit that works locally to all of our countries. Every year, the ZE Team organize dozens of tours to distribute all of the knowledge about electromobility to our colleagues, and to help our clients benefit from the latest technologies. This dedicated team runs a community of "Zero Emission" representatives identified in each country.
Our employees are the ambassadors of our environmental commitments
Aware of our role in the fight against global warming and the acceleration of the transformation towards sustainable, carbon-free mobility, the Transdev Group has formalized a new environmental strategy, «Moving Green», which is based on the efficiency of its networks and will be widely deployed in 2021. This new strategy responds to the necessary green transition supported by the public transit authorities and the objectives of the Paris Agreement: to offer citizens an effective alternative to self-driving, and to continue to develop our energy expertise in order to gradually move away from fossil fuels.
Our ambition is to reduce our carbon footprint by 30% by 2030 and to increase the share of our alternative fleet by 50% which is already composed of 10% of biodieselvehicles , 7% of CNG and biogas vehicles (Compressed Natural Gas), and 7% of electric vehicles. Our first commitment to the environment is to attract passengers to shared mobility by improving the customer experience and by adapting our offer to the needs of passengers: multimodality, attractive comfort conditions, transportation on demand, deployment of MaaS (Mobility as a Service).
In addition, we are making every effort to control our environmental impacts in all our operations, to raise awareness of all our stakeholders, and to promote the use of environmental technologies of our employees to the challenges of sustainable mobility through our e learning platform and train our drivers to eco-driving. In addition to our actions to offer an efficient public transportation network, we are committed to drastically reducing the use of fossil fuels by deploying alternative energies (biodiesel, biogas), but also by experimenting with new energies, such as hydrogen. With more than 300 electric vehicles on the Dutch roads under the Transdev flag, including electric buses and cabs, trolley buses, hydrogen buses and electric autonomous vehicles ; we already operate the largest electric fleet in Europe.
Finally, Transdev is continuing to develop these new solutions in Sweden, on the road to the European Green Deal: in Gothenburg, we have just completed the first green financing for a total value of €117 million in order to put over 300 new electric and biofuel buses into service.
Electric and hybrid mobility: accelerating deployment
Electric buses in Eindhoven and around Paris, tramways in Barcelona and in Dublin, electric minibuses in La Rochelle or Amsterdam, hybrid taxis, etc.: we put environmentally friendly public transportation at the service of the public authorities.
Since 2016, we have been supporting the Amsterdam region in the Netherlands in its energy transition program, and today we are the European leader in zero emission mobility.
Portfolio of expertise Environmental solutions
Download
Our tramways also contribute to improving the environmental performance of public transportation. In Mulhouse, France, in partnership with EDF, the electricity supply of the tram-train comes exclusively from renewable sources.
In La Rochelle, France, we are partners in the YéloH2 project, a fuel cell battery life extension experiment for maritime passenger ships. It is one of the first French sea buses to be equipped and will help determine whether hydrogen technology can be used in the marine environment.
In November 2014, we participated in the tests of the first electric feeding bus (in France) which connects the two terminals of the Nice airport. Its distinctive feature: the WATT ultra-fast electric charging system, which supplies the bus at each stop as passengers exit and enter the bus. After the charging operation is completed, the bus has a range of 800 meters, allowing it to reach the next stop.
Contact our experts

Clotilde Charaix
Environment project manager
Philippe Lefèvre
Group environment project Director and ISO 9001 Headquarter Coordinator
Contact mail
Fields marked with an asterisk are required.