Corporate, institutional and industrial-site transport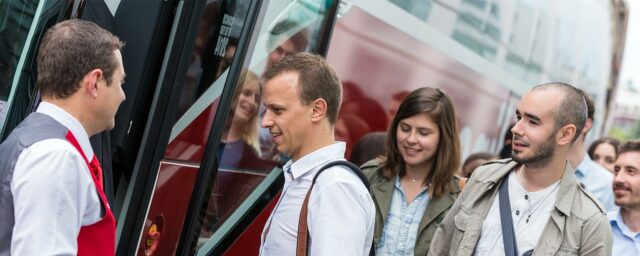 Drawing on our expertise in public transportation, we provide mobility solutions for institutional and corporate employees. Our commitment: design increasingly efficient and innovative eco-mobile solutions to facilitate life for our clients.


Our commitment: offer freedom of movement on a daily basis
As a trusted partner of companies and institutions regarding the transportation of their teams, we:
transport employees to and from industrial production sites
provide internal transport solutions for wide spread and multi-polar sites
transport visitors to and from company sites (visitors of the company or regional business parks)
transport employees to occasional events (trade fairs, summits, sales events, etc.)
Some clients which have already placed their trust in us include:
EDF, PSA Mulhouse, Carrefour, Veolia, Ministère de l'Intérieur, L'Oréal…
Our mobility plans are adapted for, and developed in collaboration with each company to meet their specific needs in terms of route planning, schedule rotation and the type and number of vehicles provided. Thanks to our range of expertise we are able to implement optimised solutions designed to meet individual needs: coaches, shared shuttles, car pooling, bicycles, etc.
Our added value: extensive international experience and solid regional and local strongholds, associated with the resources needed to manage the specific requirements of key accounts (multi-site, multi-region, multi-modal, etc.).
We provide transportation from the workplace to public transport terminals, and within the company, for the purpose of: providing comfort and freedom of mobility on a daily basis and in a professionally efficient manner.
Our eco-mobility offer: designed for cleaner transport
As the European leader in zero emission transport services, we design eco-mobility solutions for companies and institutions that reduce the impact of employee transportation on the environment (electric or biofuel shuttles, coaches complying with Euro standards 5 and 6, etc.).
Helping your employees and visitors move around safely on your site.
Shared autonomous transport services offer numerous mobility possibilities.
At Rungis, for example, employees at the Orly-Rungis business park have access to a fleet of autonomous shuttles to get to the different catering facilities in the park.
For ICADE, Transdev guarantees a cutting-edge, innovative service of quality to its prospective clients. We particularly appreciated the recent introduction of Zen Bus.
This real-time bus information app for smartphones is a real step forward for travellers
Alain Guisnel, Sustainable Development Quality Director at ICADE