They're tailor-made for Calder Country – and they'll bring low emissions and high quality to the roads of Calderdale in the northern UK later this month.
Transdev subsidiary, Team Pennine has confirmed its plans to launch an all-new fleet of six high-specification Mellor Strata Ultra buses on five routes serving the Halifax area, delivering the town's first brand new buses for six years.
The new buses are the result of an investment of almost £1 million by Transdev UK as it continues to fulfil its promise to replace one in two of the vehicles it took over from previous operator Yorkshire Tiger in July of this year.
Bodywork for the Mercedes-Benz buses is being built in the North of England by specialist coachbuilder Mellor. Each new bus is fully accessible and stylishly appointed inside and out, and will carry a new brand name, 'Calder Country', and Team Pennine's eye-catching two-tone pink livery.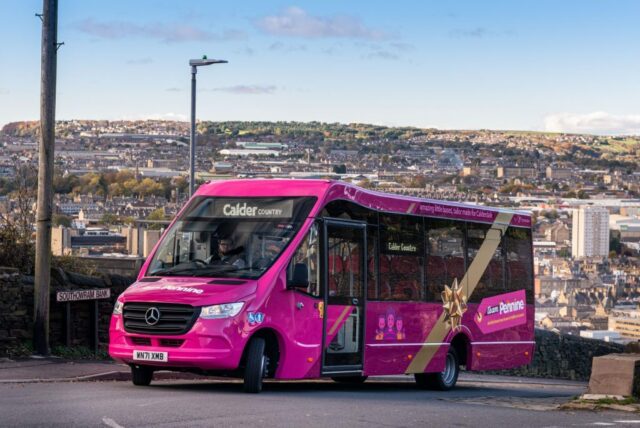 We're delighted to unveil our new Calder Country buses for our customers and new colleagues. They will enter service during November on a network of rural and urban connections across Halifax and Calderdale.
As the first new buses to run in Halifax for six years and the first new buses since the start of our Team Pennine business in July 2021, this is a special and important moment for us, our colleagues, our customers and our stakeholders. We are well on our way to renewing 1 in 2 buses within the first six months of our new company.
We are confident that these amazing new buses will transform the quality of service for many people across the region and support our shared aim with the Mayor of West Yorkshire and the West Yorkshire Bus Alliance to attract more people to switch from the car to the bus.
Each of the new Calder Country buses – named to celebrate our strong, local relationship with the community we serve – will have high back luxury seating with leather headrests, and audio-visual next stop information on board. The buses represent a total investment of £800,000 by Transdev in the quality and reliability of our services in and around Halifax – all of it at no extra cost to our customers as fares remain unchanged.
Alex Hornby,CEO of Transdev UK
We are delighted to see the launch of these new buses in the Calderdale district. It's pleasing that the vehicles are low emission and support the Mayor of West Yorkshire's pledge to tackle the climate emergency and protect our environment.
I am hopeful these new buses will strengthen the reliability of services for the local community, encouraging more people to swap private cars for public transportation.
Councilor Kim Groves, West Yorkshire Transport Committee Lead Member for Public Transportation
Each of the new Calder Country buses is fully accessible to all and can carry up to 30 customers in levels of comfort which easily match a bigger bus – yet can also navigate rural roads and busy town streets with ease.
The new buses are based on the proven Mercedes-Benz Sprinter chassis and drivetrain, which is fully compliant with tough Euro 6 low emission standards. Together with Mellor's class-leading Strata Ultra bodywork built in the North at its plants in Rochdale and Scarborough, Team Pennine's new Calder Country buses will deliver an ideal blend of capacity and reliability with fuel economy and flexible performance.
Full details of all Team Pennine services are also available online at: teampennine.co.uk.