As of today, February 21, 2022 Transdev started operating the regional bus services in the region of Östergötland in the eastern part of the country covereing the cities of Norrköping, Söderköping and Valdemarsvik on behalf of the regional public transit authority Östgötatrafiken.
A new development is that Transdev introduces 32 new fossil-free bogie buses and double-deckers that will offer better comfort for passengers. The contract is for eleven years and covers the Norrköping-Söderköping-Valdemarsvik, as well as the rural area of Valdemarsvik.
We look forward to welcoming passengers on board our new buses. Especially now that the restrictions have been lifted and we can all travel as normal again. We have a really good local knowledge and have been running public transport in Norrköping and Finspång for several years now. We will continue to do our best to ensure that new and old customers choose to travel in a sustainable way.
Marie-Louise Arnell, Business Manager Östergötland of Transdev Sweden
In June 2022, Transdev will expand its regional bus services in the region when starting to operate the express bus routes Norrköping-Finspång, Finspång-Linköping, Norrköping-Linköping and the local Krokek-Norrköping route.
Transdev has been operating bus and tram services in Norrköping on behalf of the regional PTA, Östgötatrafiken since 2004 and bus services around Finspång. Transdev is also participating in the « Ride the future » research project on the university campus and Vallastaden in Linköping, where three self-driving autonomous shuttles are operating on the open street on a loop of just over 4 km.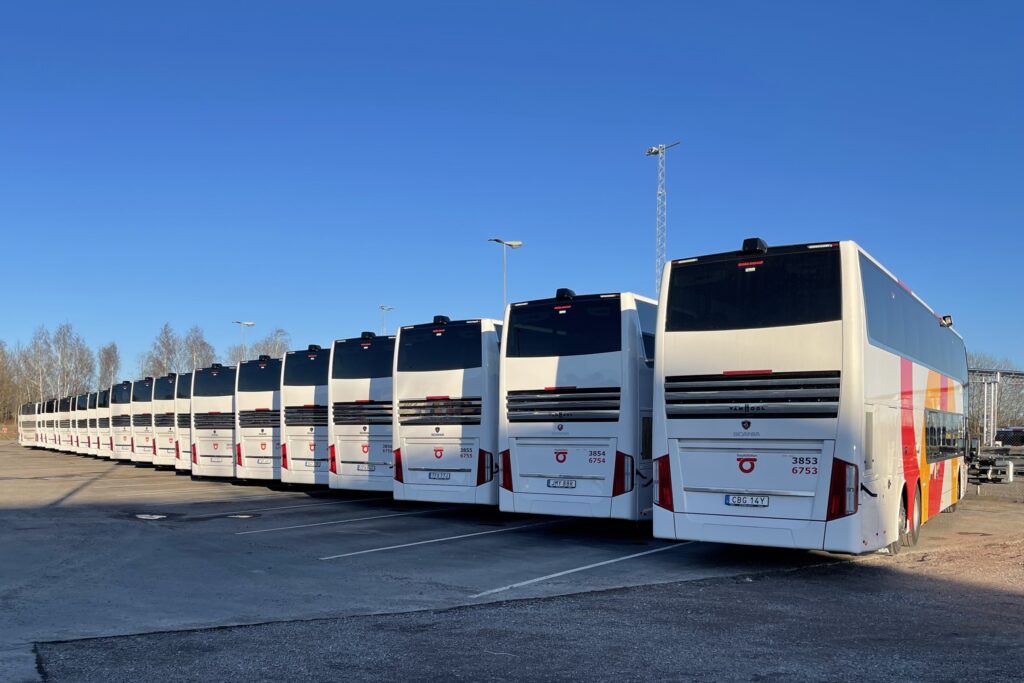 Facts about the new buses:
12 Scania Citywide Suburban (bogie buses)
9 meters
Wi-Fi and USB charging in the passenger compartment
Biodiesel fuel (RME)
20 Scania Van Hool (double-decker)
7 meters
Wi-Fi and USB charging in passenger compartment
Biodiesel fuel (RME)