Whether it is transporting schoolchildren in our taxis, commuters in our trains, tourists in our buses or patients in our ambulances; for Transdev Netherlands, almost everything revolves around mobility. But since this year, a specialized team from Transdev's subsidiary Witte Kruis has been responsible a very special type of transportation : organ donation transportation.
Recently we sat down with Ruben de Gram, Organ Donation Transportation Manager, and Gérard Fortier, South Region Team Leader & Coordinating Driver to talk about their work in this team. « We are a small business unit within Witte Kruis, but one with a very complex operational execution. »
Ruben has been active in organ donation transportation for over 14 years. Through his work as an ambulance mechanic, he encountered organ transportation trucks and later drove them himself as a driver for organ donation transportation. Eventually, Ruben and Gérard started an organ donation transportation company in Nijmegen in the eastern part of the Netherlands.
Under their leadership, the company has grown into a team with several vehicles and drivers. For Witte Kruis, organ donation transportation is a new challenge that requires very specific knowledge and experience. It was therefore decided not to reinvent the wheel, but to make use of the special expertise and experience of Ruben and Gérard. « When Witte Kruis won the contract for organ donation transportation in the West and South of the Netherlands, I came into contact with Marcel van Pijkeren, Commercial Director for Witte Kruis, » Ruben explains. « By employing all employees from the South region and taking over some of the vehicles, Witte Kruis immediately had the necessary knowledge and some of the resources. »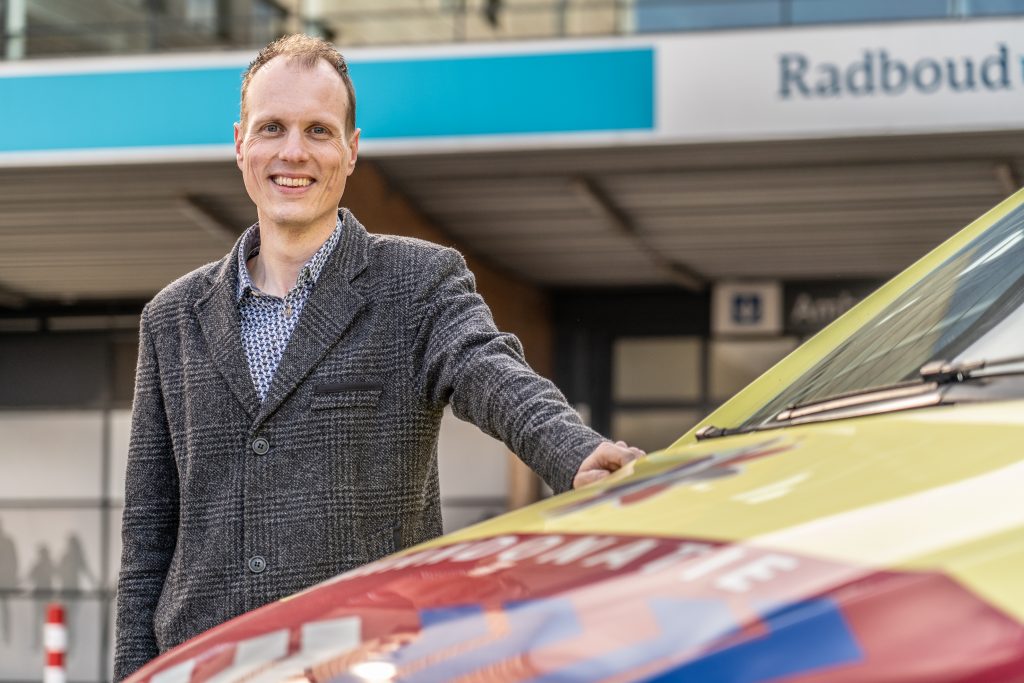 Pictured above: Ruben de Gram, Organ Donation Transportation Manager
As Manager of Organ Donation Transportation, Ruben is responsible for many aspects of the organ donation chain : « I monitor all processes, make adjustments where necessary, keep systems up-to-date and maintain contacts with stakeholders. But quality improvement, innovation and laws and regulations are also on the agenda every day. » He continues: « Organ donation transportation is so much more than just driving from A to B. It is a logistical puzzle that must be put together time and time again. And this is not possible without the commitment of so-called 'first drivers' like him, » says Ruben, nodding his head in the direction of Gérard. Gérard, in turn, explains what his role is: « A first driver is part coordinator and part driver. We are in constant contact with the parties involved and take care of route assignments and planning. First drivers are on call day and night in a picket schedule and have their vehicle at home. »
In the Netherlands an organ donation procedure can be initiated when it is clear that someone is brain dead or has an "end-of-life prognosis" and is in the ICU, of course only if there is consent from the donor themselves or from the family. « At that moment, we jump into action, » says Gérard.
« The first driver, also called the coordinating driver, receives a signal from the Organ Donation Coordinator (ODC) when an organ donation procedure is about to start. A driver then takes the ODC to the relevant hospital. Subsequently, tests are started on the donor and his/her organs. The ODC coordinates this process from the hospital where the potential donor is located. The ODC reports the organs suitable for transplant to Eurotransplant, an organization that finds out which patient on the waiting list is medically most suitable to receive a particular organ. The coordinating driver ensures that the right drivers from the team are deployed, each with their own task. »
"When organ removal is scheduled, an Independent Removal Team is called in. These specialists are picked up from various locations and have practically everything they need to remove organs in the vehicle. All they need is an operating theatre, » concludes Gérard.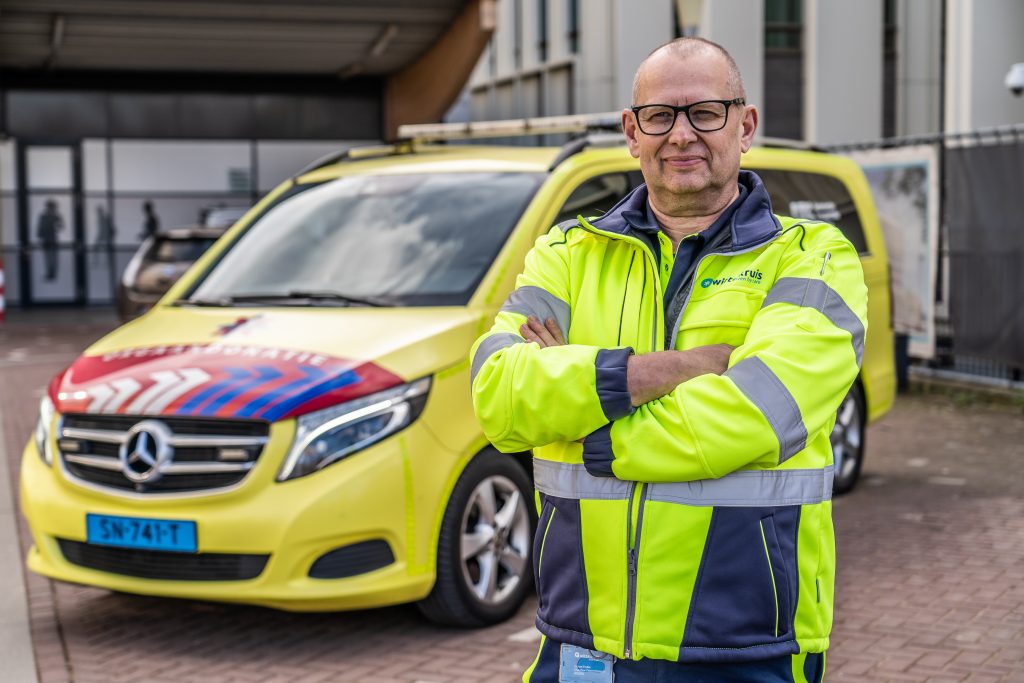 Pictured above: Gérard Fortier, South Region Team Leader & Coordinating Driver
If a heart and/or lung donation is also involved, a separate surgical team comes from the recipient's hospital to remove these organs and take them to the transplantation center. « We even have the option of connecting and transporting organs on so-called perfusion machines to keep the quality of the organ high, » Ruben explains. « That means you transport a beating heart, for example. » After the removal operation, the organs are packed and transported to the recipient's transplant center. « Procedures often run for 48 to sometimes even 72 hours. There is so much involved. »
Gérard adds: « A procedure sometimes requires up to eleven cars with drivers. We have 17 cars in total, with the recognizable stripes of the Dutch Transplant Foundation. This is necessary, because there are often two or more procedures running at the same time. Nationally, there are about 320 donation procedures per year; we have an average of two per week in the Southern region. But there can also be no procedures for days on end and then suddenly three in one day."
« Procedures that last for days. Being ready day and night and sometimes waiting for hours. As many as 60 to 100 people involved per donation. International collaborations, because donor organs can also come from abroad or go there. More than 100 telephone calls per procedure… It really is a specialization, » concludes Ruben. « It is very rewarding to ensure, together with my colleagues, that this logistical puzzle is put together every time. But the most special part is that you actually get the chance to fulfil someone's last wish. A wish that might be a wonderful start for someone else. That is what we do it for. »