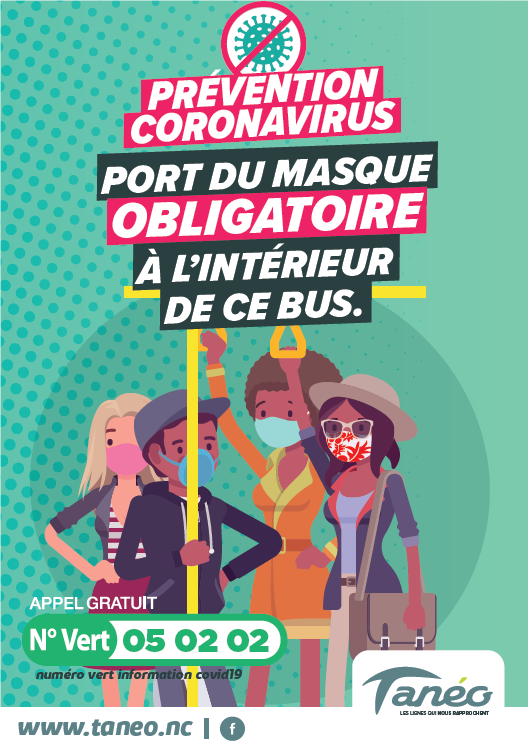 The New Caledonia was spared the COVID-19 outbreak, the Territory was the first to lift the general containment measures. Thus, the Tanéo transit network, operated by CARSUD (Transdev OUTRE-MER), was the first French network to implement a full resumption of its services.
As for all French territories, general containment was implemented in New Caledonia from mid-March. Measures to protect employees and passengers were then taken on the Tanéo transit network: reduction in the number of journeys, no sale of tickets on board, protection of drivers via their glass cabins against aggression, disinfection of buses every day, provision of gloves, masks and hydroalcoholic gel for employees, stopping ticket controls on board buses, etc. During this period of confinement, network ridership fell by around 80%.
New Caledonia experienced a very limited diffusion of COVID-19 on its territory (18 imported cases, without any local chain of contamination). After 4 weeks of confinement and 15 days without any new cases, lockdown exit was therefore implemented as of 20 April, under conditions that may appear to be less restrictive compared with what was announced for the rest of the French territory (no obligation to wear a mask on public transportation, no elimination of one seat out of two on regular lines but only for school transportation).
The subsidiary's entire fleet was then put back into operation in order to provide a normal service. Certain protective measures were maintained (protection of drivers, no sale of tickets on board, daily disinfection of vehicles).
The sales branches were reopened, but with specific measures applied: regulation at the entrance by a security guard, queuing outside, floor markings to indicate safety distances, glass and protective equipment for agents at the counter.
Since May 4th, the local authorities have made it compulsory to wear masks in public transportation. It will therefore be implemented on the whole network and will be communicated in the vehicles.
From the first week, bus ridership has risen to 50% of what it was before the crisis. The lockdown exit therefore immediately led to a threefold increase in the number of passengers on the Tanéo network.
We are now drawing up a very reassuring assessment of the lockdown exit phase. The staff was present when the network was restored to normal operation, and passengers seemed relieved to return to their usual services. Today, a reflection is under way on the definitive abolition of the sale of tickets on board vehicles, which represented 80% of sales before the crisis.