Urban Pulse, an app always on the move!
A wholly innovative smartphone application was born from a simple idea: transform travel time constraints into free time.
Urban Pulse has movement deep in its DNA. The latest member of the Transdev service portfolio dedicated to digital mobility, the smartphone application Urban Pulse has now been downloaded more than 60,000 times and is making its mark both in the digital world and down on the city streets.
Pretty much what you would expect for the sole application that "tells you everything pulsating around you: things to do, special promotions, keeping in touch with friends and getting around!"
The app that pulses worldwide
The app that pulses worldwide Launched in beta-version in 2011 on two pilot transit systems in France, Urban Pulse was deployed for Paris early in 2012 and will be come available for New York and Boston soon. The service will be enriched gradually to include other functions, such as augmented reality and mobile ticketing. Deployment in other major European, US and Asian cities is continuing in 2012. Deployment in other major European and US cities is continuing in 2012.
Where are my friends ?

Urban Pulse guides the user toward their friends using a location-based social network feature.
What's happening in my city?

The application offers travelers recreational or cultural mobility content developed by specialized editors, providing local information on places to visit and not to be missed events.
Getting around

The multimodal route planner helps the user choose the best mode and way to reach his destination. The « stations » function answers the questions "when?" and "where?" , indicating the nearest stop and next service.
This free application is based on an innovative business model using location-based, customized, anticipatory advertising, creating a new source of social and economic value.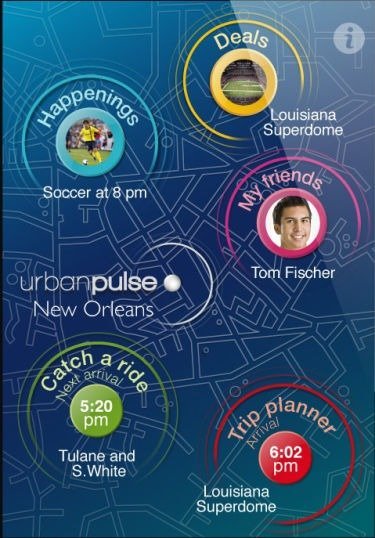 Multimodal info!

As an example, Urban Pulse now offers—a major first for Paris and the Greater Paris area—an information service covering all types of transportation from express metro, buses, metro and taxis to light rail, night buses, bike-sharing, car-sharing and river shuttles!
Multimodal route planning, self-service vehicle availability, departure times for passenger transportation, and opening times for vehicle parking lots, transportation routes and shuttle service frequency-the whole range of mobility information packed in a single app. Once a user gets geo-tagged, they can immediately find all nearby transportation solutions as a map or list.