Smarter Mobility, the solution
Smarter Mobility anticipates road traffic and calculates arrival times of all transport modes within one hour. Events which can cause delays or disrupt services are taken into account to avoid congestion and help maintain safety. Thus the predictive information delivered by Smarter Mobility enables cities to upgrade and to give sense to the use of real-time information.
Smarter Mobility integrates data from all transportation services as well as from other sources of information like weather forecasts or social media. These data sources converge in a unified response to relevant authority departments, as well as travellers and operators.
With Smarter Mobility, congestion-related emissions can be significantly reduced and public transit savings invested in new projects for the benefits of citizens.
Smarter Mobility added values
Easy journey experience encouraging the use of public transport and "soft modes" (walk and cycle)
Reduced operational costs
High performance route to economic vitality
Optimized transport infrastructure, etc
Smarter Mobility, customized multimodal answers
A unified real time view of all transportation modes including road traffic
Changes in traffic are predicted to anticipate events allowing authorities to respond quickly
A solution to minimize disruption, optimize infrastructure capacity and improve fluidity of transport services
A navigation assistance to anticipate the best multimodal itinerary according traffic conditions
A customized guide during the trip that predicts changes in traffic
A seamless information access to all transport modes and through any mobile device and web enabled technology
Better operational control thanks to the predictive analytics applied to real time information
Variable dynamic pricing to improve peak / off peak ridership capacity
A great leverage to improve customer satisfaction while reducing cost of operations and increasing revenue
Smarter Mobility, how it works?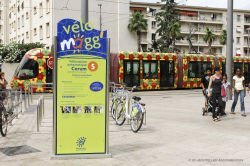 Smarter Mobility addresses the layer of integration and intelligence on top of existing urban transport infrastructure:
Real-time data generated by all city trips is captured by multiple sources (cameras, loop sensors, radar, CAD-AVL data, mobile phones, etc.)
This data is converted in standard format and processed through predictive modeling
The information is then processed to various applications such as trip planning, personal navigation assistant, various support decision analysis, and more
Smarter Mobility relies on the Intelligent Operations Center (IOC) from IBM, designed to provide cities with a holistic view of city operations to:
Monitor key performance indicators
Leverage information across all city agencies and departments
Anticipate consequences of incidents and minimize the impact of disruptions
Coordinate resources to respond to incidents and events rapidly and effectively