Due to the COVID-19 pandemic, leveraging the Group's renowned expertise in Network Design and data is vital; Transdev's transformative program MobiAdvisor makes this possible.
Demand for public transportation has been significantly impacted and it may take months to fully recover. Hence the need to properly gauge current levels of demand and how it evolves. Today, MobiAdvisor allows Transdev to tackle that challenge, by providing better, enhanced insights which help adjust our services accordingly.
For the past 15 years, we've accumulated a wealth of knowledge across our networks through surveys of public transportation users and non-users concerning their mobility habits. Origin-destination questionnaires as well as passenger satisfaction surveys provide more refined customer data.
By combining these sources with operational data and digital traces, we can paint a detailed picture of mobility and design the most relevant mobility solutions possible, whether that be a (reconfigured) Transportation-on-Demand service, increased transit service in underserved areas or frequency adjustments.
The MobiAdvisor program seeks to strengthen Transdev's data-driven advice to Public Transit Authorities in two ways. First, we have developed extensive Network Design expertise in France. It allows us to offer clear and efficient mobility solutions in any given area. We are currently working to harness that knowledge and share it with countries who are keen to leverage it in their operations and bids.
The second pillar of MobiAdvisor is a portfolio of data solutions. Whether it be to track operational performance, customer segmentation or connection rate, we've spent the last few months testing various solutions. Here are a few examples:
One of the solutions that we have incorporated within the MobiAdvisor program is Flowly. Thanks to beacons aboard busses and light rail systems, we can assess occupancy by counting smartphones aboard. With this detailed information, networks can examine past performance, identifying where demand was strongest and adjust their offer at that time and place by allocating resources. Networks in France, such as Grenoble, Roanne or Avignon, have been able to successfully rely on Flowly to measure ridership and load factor in vehicles, share results with local partners and be transparent about steps taken in this unprecedented period. Deployment is a matter of days, and reliable data can be available in only a few weeks. This can be especially useful in challenging times like these when social distancing must be observed onboard. This data can also be combined with other counting solutions, whether video or otherwise, and can assist with adjustments to our services.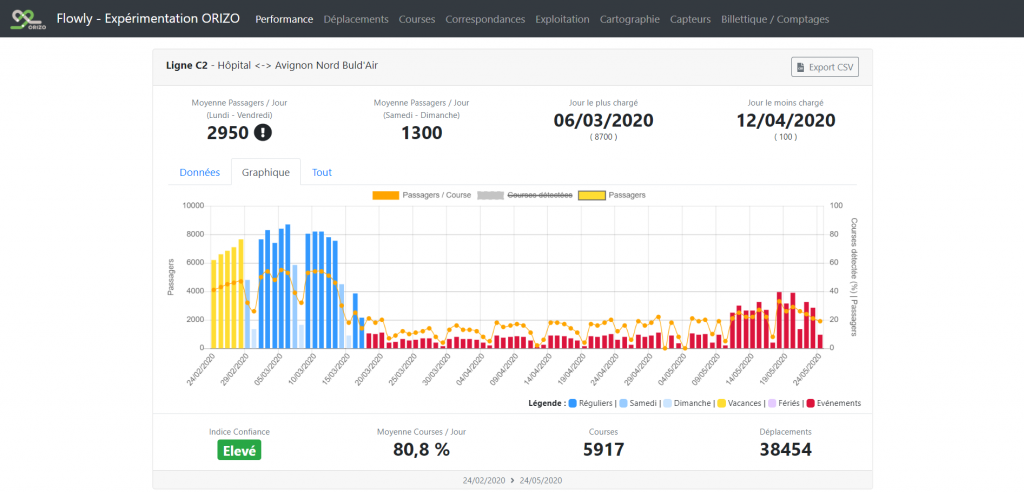 Ridership prior to, during, and post COVID-19 lockdown on Greater Avignon's C2 line (Orizo network), as measured by Flowly
Another solution that has been tried and tested in the past few months is Wever. Their online diagnosis tool collects opt-in data from both public transportation users and non-users and illustrates their mobility habits on a map. Their algorithms even make suggestions as to how best address them. This is especially useful to understand demand for mobility in an area that is currently not being served. Further, Wever has drawn interest from business parks and shopping centers to help measure flows to their area. Presenting these data-rich, visual findings during a bid process can strengthen our proposals. Also, it can track changes in mobility habits over time by measuring for example the use of personal vehicles as a transportation mode.
Thanks to our expertise, partnerships and continued dedication to our operations, passengers and clients, MobiAdvisor is here to ensure we provide the best possible mobility solutions. We're looking forward to the future!