On this December 3rd, it is the United Nations International Day for People with Disabilities. Transdev would like to renew its support for the dignity, rights and well-being of people with disabilities.
In 2020, the pandemic has greatly weakened the virtuous circle of improving the situation among this fragile population, but at Transdev, our teams have continued to mobilize and translate this commitment into actions as they have done for years. That is why this year, we are paying tribute to all Transdev employees for their contribution in favor of a mobility accessible to all and in the best conditions throughout the world.
Foster a dialogue with associations representing people with disabilities
In the region of Östergötland in Sweden, teams visited the National Disability Association (DHR), and the National Association of the Visually Impaired, where they learnt about what it is like to travel on public transit as person with a disability.
Last September, Transdev France signed an agreement with APF France Handicap (a French organization that defends and represents people with disabilities and their families) to provide everyone with access to public transportation: people with reduced mobility, the visually impaired, etc. throughout the Île-de-France region, in order to build sustainable and inclusive mobility.
Make traveling accessible to everyone
In Bavaria (Germany), all our vehicles are of course barrier-free according to Persons with Reduced Mobility framework. They are also certified according to the criteria of "Travel for All". 
Find out more about Transdev Germany operations
In Portugal, the Aveiro network uses Color Add, a unique, universal, inclusive and non-discriminative language that enables the colorblind to identify colors. This is particularly important to help passengers identify the lines and routes in the networks they ride.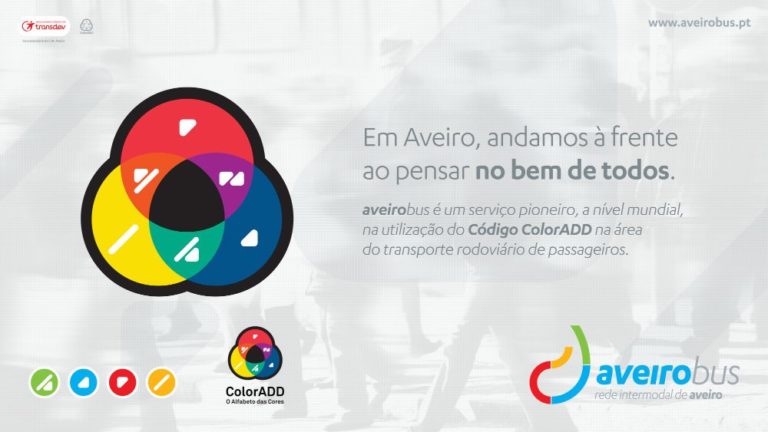 On our light rail operation, LUAS in Dublin, Ireland, the JAM Card will be rolled out across the country and issued to people with hidden disabilities to show to customer facing staff to let them know they may need additional time to be dealt with properly. The JAM Card© was created by NOW Group at the end of 2019, a social enterprise that supports people with learning difficulties and autism into jobs with a future.
In the USA, Transdev Paratransit operations eliminates barriers to safe and reliable transportation for communities with disabilities in more than 50 cities, from San Francisco to Baltimore. 
Train staff to welcome people with disabilities in the vehicles
Transdev Sweden has implemented a new training program for drivers focusing on Diversity and Inclusion. Part of the training aims to raise the awareness of the needed assistance to passengers with disabilities by trainees put themselves in the shoes of disabled passengers.
YouTube drops trackers when displaying videos. By clicking on "Authorize", these tracers will be deposited and the video will be displayed. You can withdraw your consent at any time.
Raise awareness both internally and externally
This week, in France, digital activities to raise awareness of disabilities will be organized for all employees at the Transdev head office in Issy-les-Moulineaux via a fun quiz conducted by the company Coup2Coeur. Coup2Coeur is a communication agency whose founder and associated experts have the status of disabled self-employed worker, experts on disability topics.
Also, Transdev's light rail operation, TRAM in Barcelona partnered with Eurofirms Foundation to raise awareness on disabilities. Illustrators Javi Royo, Lyona Ivanova, Miguel Gallardo and Pilarín Bayés have made comics based on real situations people with disabilities experience in order to raise awareness and promote equality. The campaign will be on Transdev's light rail network Trambaix in Barcelona through December 3rd, Disability Day, and will also be disseminated on the TRAM social media channels.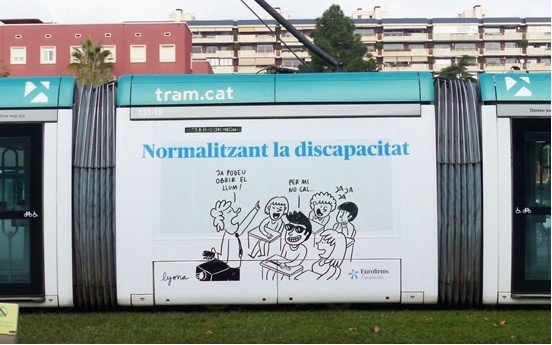 Encourage the employment of persons with disabilities
Transdev Nederland uses various "Cleanteams" throughout the country; men and women with a mental disability who clean our vehicles up to five days a week with great enthusiasm. The deployment of "Cleanteams" leads to extra clean buses and satisfied customers, greater satisfaction for drivers and make maximum use of the potential of the labor market. In fact, the results and experiences are so positive that we are currently discussing expanding the activities in some regions, have them work more days a week, clean the staff quarters and do minor tasks to support the technical department.
Set up dedicated governance and programs
In Chile, Transdev's Redbus Urbano Quality of Life Department is implementing since 2017 a Labor Inclusion program, initiating each intervention strategy under the principle of "non-discrimination". The program covers the training of managers and teams, the completion of agreements with local authorities for the incorporation of people with disabilities and accommodation of jobs, and administrative support for disabled workers.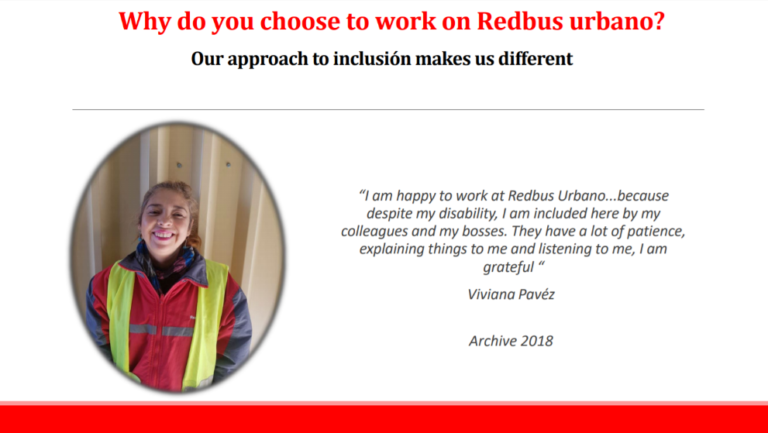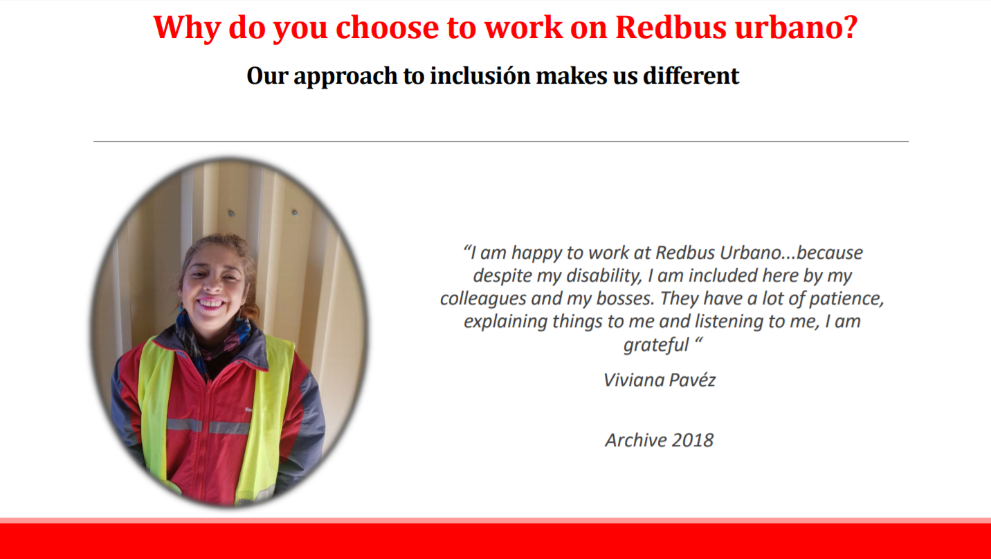 Transdev Australasia has issued its 2020-2023 Accessibility and Inclusion Plan covering 6 core areas:
1. Accessible and inclusive workplace
2. Accessible and inclusive recruitment
3. Career development education and training
4. Information and technology
5. Customer service
6. Accessible public transport
On their side, Transdev Melbourne has established this year an Accessibility Reference Group to amplify the voices of our customers experiencing disability with the aim of delivering an inclusive and accessible bus service for all customers. The group aims to help us:
• identify the key accessibility issues that exist for customers living with disabilities
• raise awareness and understanding about the needs and preferences for customers experiencing accessibility issues
• improve the customer experience for Transdev Melbourne customers who experience accessibility issues.
On the occasion of the International Day, they have made a series of videos featuring members of the Reference Committee and are posting once a day on their social media account together with details of some of accessibility programs.
To ensure that mobility remains synonymous with freedom, we will continue to remove barriers in 2021!