The Amazing Awards were celebrated in November 2016, at a gala evening at the National Media Museum in Bradford, West Yorkshire, hosted by North of England-born actor and comedy star Dave Spikey, co-star of Peter Kay's hit Channel Four comedy Phoenix Nights.
The eight winners of the coveted Amazing Awards were directly nominated by their own colleagues, and selected from a shortlist of 34 of the company's finest teams and individuals, based at bus depots throughout Transdev's operating area across Yorkshire and Lancashire.
Our people are at the very heart of what makes a successful business. Whether it's driving our customers safely to their destination, making sure our buses are safe and reliable, or providing great support behind the scenes, our fantastic people make this company the success it is. The high standards set by everyone on the shortlist made choosing the eight winners of our first Amazing Awards a challenging task, but an enjoyable one.
Alex Hornby, CEO of Transdev in Yorkshire and Lancashire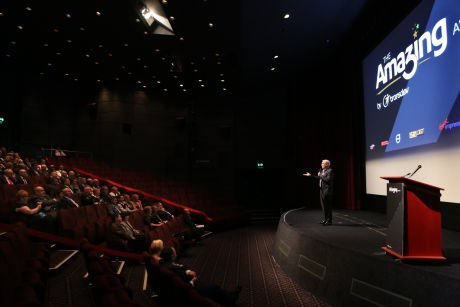 At the heart of our company, we believe in three things - employing people who are happy to work for us, serving people who are proud to be our customers, and creating a business which is innovative and successful. Our core values, passion, performance, partnership and commitment shine through every one of our Amazing Awards winners. The Amazing Awards are about celebrating everything that's good about the people who deliver the highest standard of service for our customers, every day.
Alex Hornby, CEO of Transdev in Yorkshire and Lancashire
Winners in each of the eight Amazing Awards categories were:
Apprentice of the Year – for outstanding customer service skills and professionalism
Winner: Lewis Simeone, apprentice electrician, The Keighley Bus Company. Now into the second year of his electrician's apprenticeship, Lewis has impressed his colleagues at Keighley with his improvement every day, Even at just eighteen years of age, he's not frightened to get stuck in until he gets to the bottom of a vehicle fault.
Eco Warrior – for a driver who knows the importance of safety, efficiency and comfort, demonstrating the highest standards recorded by the GreenRoad driver and fleet performance monitoring system.
Winner: Adrian Kenyon, driver, Transdev Burnley – Adrian recorded high marks for safe driving and an extremely low vehicle engine idling rate recorded by GreenRoad, thus reducing emissions and fuel wastage to a minimum
Rising Star – for a relative newcomer to the business who is really making positive waves·
Winner: Chris Reid, driver, The Blackburn Bus Company – Chris hasn't been at Blackburn for long, but he's already making a big impact with his enthusiasm and ideas. He currently drives the recently relaunched Hotline 152 route linking Burnley and Blackburn with Preston, but isn't afraid to tackle other work around the business, helping to run the local Twitter account and numerous marketing promotions. Chris does a great job in encouraging more people to take the bus
The 'A' Team – for a team working together to make a real difference
Winner: Transdev Burnley Engineering Team – this super-efficient team has an impressive 99.1% MOT pass rate measured over the last three years, and has a real passion for delivering quality. Many buses in the Burnley fleet are immaculately presented, despite working hard on some of the company's busiest routes
The Hero – for a person who goes above and beyond expectations. A true champion!
Winner:Michael Hill, driver, Coastliner, Malton – when nature's at full force, you need a hero with a cool head who can handle the pressure and stay in control. That's exactly what Michael did when floods devastated areas of the City of York on Boxing Day 2015
The Lifetime Star – for a long-standing member of the team who's always shown true commitment and dedication
Winner:Heather Hopps, The Keighley Bus Company – Heather is certainly a popular figure in the Keighley cash office, with nominating colleagues describing her as "always very helpful" and "simply the best"
Engineer of the Year – for an engineer who shines, always giving all they can to make sure the operation runs smoothly, with safety a top priority
Winner: Bill Livesey, The Blackburn Bus Company – with a lifetime of devotion to the bus industry, the company is lucky to have Bill's enthusiasm and unrivalled engineering skills in its Engineering Support Unit in Blackburn
The Dream Driver – for a driver who has shown outstanding customer service skills and professionalism. Voted for by customers and mystery shoppers
Winner: Mariusz Losinski, Cityzap, York – Mariusz's calm and competent approach earned him the York depot's nomination for this award. Despite driving through stressful city centre traffic in York and Leeds, he remains relaxed throughout and always remembers to give his customers a smile!
Colleagues from each of Transdev's six depots across the north – in Blackburn, Burnley, Keighley, Harrogate, York and Malton – were on hand at the Bradford ceremony to see the eight winners receive their Amazing Awards.
Each Transdev subsidiary company across Yorkshire and Lancashire is managed and run locally, with strong local identities and highly recognisable brands to promote customer retention. Its 'magnificent seven' popular and high profile branded services are:
Coastliner – linking Leeds and York with Whitby, Scarborough, Filey and Bridlington every day
Cityzap – a direct express service between York and Leeds, featuring 'zap nav' satellite navigation to help drivers choose the fastest route into the heart of Leeds
36: RidingRedefined – an industry-leading, innovative service between Ripon, Harrogate and Leeds, with luxury features including free superfast 4G Wi-Fi, USB power points at every seat, plush leather coach seats upstairs, and personal tables with quilted leather seating and a chill-out area on the lower deck
Brontebus – a network of local services in the Keighley and Haworth areas of West Yorkshire, relaunched in summer 2016 with new easy-access buses
Witchway – a popular express service between Skipton, Burnley and Manchester, with a summer extension to Grassington in the Yorkshire Dales
RedExpress – a frequent and direct motorway express route between Blackburn, Accrington and Manchester, with high-spec, twin-deck buses featuring free Wi-Fi and USB charging points at every seat
Hotline – the new brand for Transdev's popular 152 service linking Burnley, Blackburn and Preston with plush purple double-deck buses featuring comfortable leather seats and superfast free 4G Wi-Fi on-board.