They're the England cup-winning legends who brought the EURO 2022 trophy home and now three of the national women's team have their very own named buses on the road in their hometowns.
Transdev UK has named three of its buses after Whitby's Beth Mead, Harrogate-born Rachel Daly, and Keira Walsh who was born and raised in Rochdale, inf their amazing success at Euro 2022.
Over 17 million TV viewers across the nation tuned in to follow the England side's journey to glory in front of a capacity crowd at Wembley Stadium in London last Sunday (31 July 2022), which ended in glory and a first trophy win since the men's World Cup victory 56 years ago in 1966.
Now Transdev's trio buses proudly bearing Beth, Rachel and Keira's names will be turning heads in the towns where all three players were born.
The England team's stunning performance throughout the Euro 2022 tournament has captivated the whole nation, and nowhere more so than in and around the North where three of them began their love of football.
Naming three of our branded buses after Beth, Rachel and Keira is our way of saying thank you for their amazing success which has brought football home. They are all fantastic role models for young sportswomen in our region and around the world and naming our three buses in their honor is all about celebrating their phenomenal achievements.
The England Women's team have brought football home, and now we're bringing our three buses named in honor of these amazing stars home to the towns where their story began. We think our customers will agree that this is an appropriate way to recognize their amazing success.
Alex Hornby, Transdev UK CEO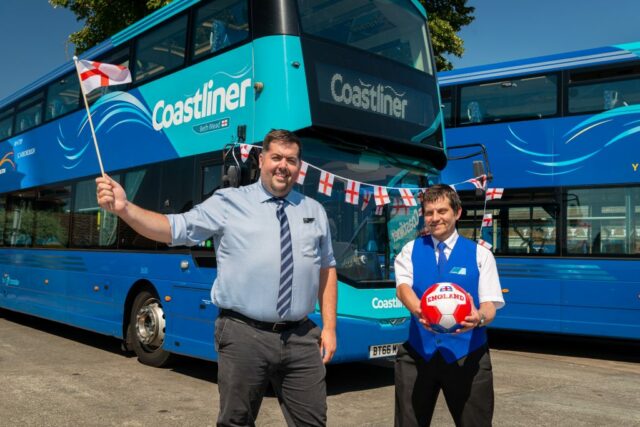 27-year-old Beth Mead was a student at Whitby's Caedmon College, and grew up in the tiny coastal village of Hinderwell, eight miles north of the seaside town. She first took up football at the tender age of six, going on to Middlesbrough Football Club's Centre for Excellence before joining Sunderland in 2011 and Arsenal from 2017, where she has 34 goals and 98 appearances to her name.
Rachel Daly was born and grew up in Harrogate, attending the town's Rossett School as a teenager and becoming a star performer in its football teams. 30-year-old Rachel dedicated England's Wembley win to her late father Martyn, who sadly died last September: Martyn lived in Harrogate and was a semi-professional footballer with Harrogate Town and Knaresborough Town in the 1980s and 1990s.
25-year-old Keira Walsh was born and brought up in Rochdale, attending Haslingden High School and Bacup and Rossendale Grammar School as a teenager. Keira began playing football with Pearson Juniors in her hometown before being signed by Blackburn Rovers, and progressing to join her family's favorite club, Manchester City, in 2014.
This week's triple bus naming is the latest in a series of sporting-themed moving tributes by Transdev. In 2016, the operator named one of its route 36 buses after Ripon Olympic diving hero Jack Laugher, and last July, a second 36 bus was named in honor of England manager and local resident Gareth Southgate as his team reached their first major tournament final in 55 years.
At the same time, a Rosso bus on its Bury Bolts town network was named after England right-back Kieran Trippier – while a Coastliner bus was also named in honour of retiring BBC Radio York football commentator Barry Parker in June of this year.
Full details of all Transdev routes, times and fare deals are online at: transdevbus.co.uk, and on the free to download 'Transdev Go' mobile app.