Thanks to efficient cooperation between the teams of Transdev Canada, Transdev USA, Autonomous Transport Systems, Cityway, and the communication and sales divisions, Transdev organized various operations which made it a key player during the 3 days of the summit.
The company had two stands at the event: one to present its global activities and wealth of expertise, and a second exclusively devoted to the Autonomous Vehicle activity, which was Transdev's flagship innovation at this global summit. It was also the opportunity to meet many clients, transport authorities, and partners.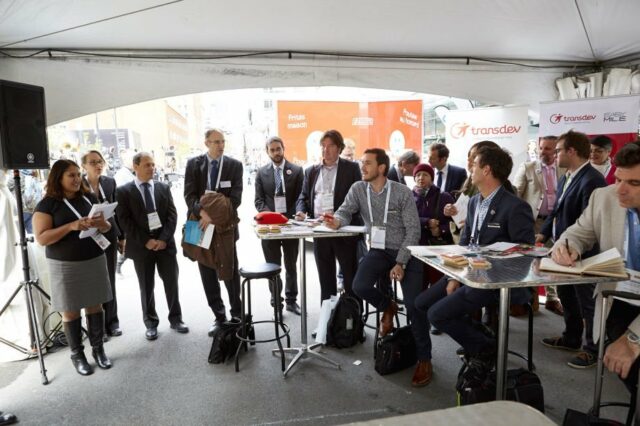 Spotlighting Transdev's vision and its autonomous vehicle
On the very first morning, a press conference was organized to present the Group vision of the future of mobility in the presence of Thierry Mallet, Chairman and CEO as well as Mark Joseph, North and South America Director, and Yann Leriche, Chief Performance Officer in charge of the B2C business line at Transdev. It was the chance for them to underline the stakes of mobility and Transdev's strategy which is based on the concept of P.A.C.E.: tomorrow's mobility will be Personalized, Autonomous, Connected and Electric.
This vision is perfectly illustrated by the autonomous vehicle which was presented in demonstration throughout the summit for all the visitors, as well as the population of Montreal who were curious to test this new form of mobility for the first time.
The autonomous vehicle offers some key advantages: heightened safety, reduced traffic in cities, 24/7 availability, and above all reliability, as emphasized
Yann Leriche, Chief Performance Officer in charge of the B2C business line
Just before the UITP summit, on May 12, the people of Montreal experienced their first ever demonstration of an autonomous vehicle, organized by the teams of Transdev and its partner Easymile in Montreal's Olympic Park.
Our experts have their say
Transdev's contribution to rethinking and constructing mobility was also outlined during the various debates organized during the summit through speeches by Chloé Spano on "Next Steps in the Ticketing Journey", Yann Leriche on the "Impact of Digitalization on Public Transport" and "Paving the way for shared use of AVs", Marielle Villamaux on "Putting Customers at the Heart of Service", François Regembal on "Zero-Emission Buses Made Real" and Dick Alexander on "Rethinking Transport/First + Last Mile."