The Executive Committee of Transdev Group, led by Chairman & CEO Thierry Mallet, visited Transdev Portugal's facilities in Guimarães this past week. The delegation came to the country to learn more about the operation that will be launched in the Intermunicipal Community of Ave as of December 1, 2022.
The delegation made up of Thierry Mallet, Chairman & CEO; Antoine Colas, CEO International; Antoine Grange, CEO Europe; Caroline Gonin, Group Chief HR Officer, Marcos Garcia, Group Chief Financial Officer; Virginie Fernandes, Group Strategy & Transformation Officer; Edouard Hénaut, CEO France; Laura Hendricks, CEO USA; and Martin Becker-Rethmann, CEO Germany met with the Transdev Portugal's Management Committee and went an operational site visit led by Ave Business Unit Director, Ana Zita Lopes, of the administrative offices, the workshop and the maintenance and fleet areas. During the visit, everyone was able to follow the work routines of the local operational teams and discuss their impressions about the transportation solutions that Transdev Group soon will offer in the region.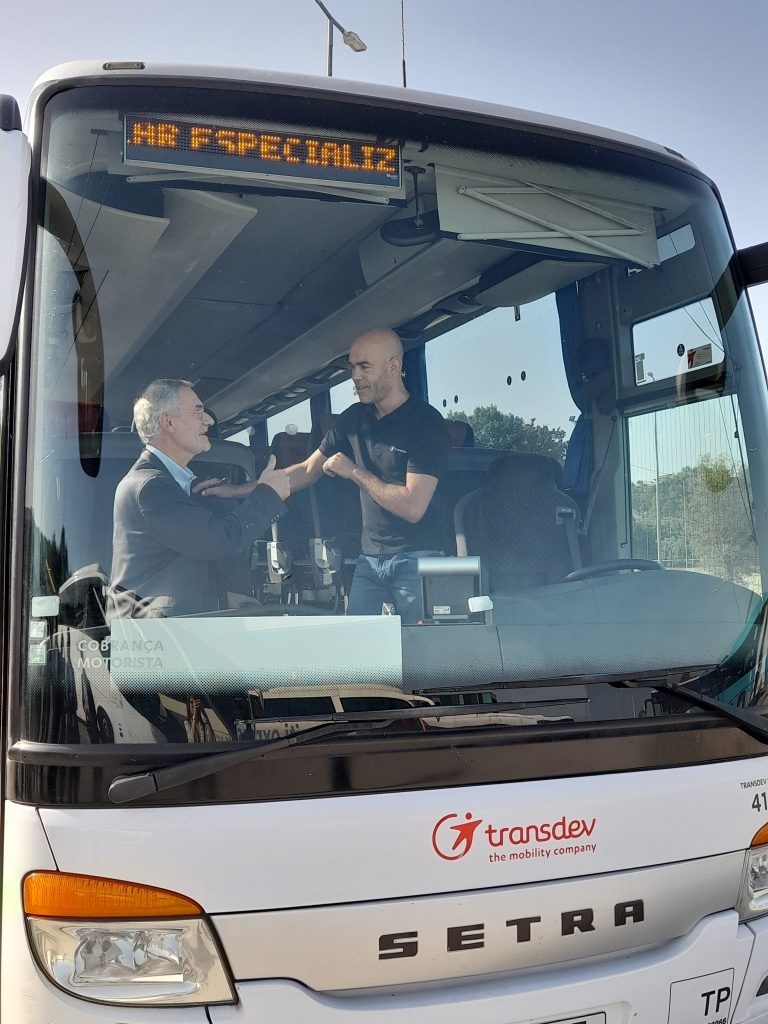 During this visit, Group Chairman & CEO, Thierry Mallet followed the work of the maintenance technicians up close and conversed with several of the local drivers. The delegation was able to watch in real time the adaptation and prepared of the vehicles that will be in service on the Ave network, under the brand Ave Mobilidade.
Pictured from left to right: Sergio Soares, CEO Transdev Portugal and Thierry Mallet, Chairman & CEO of Transdev Group
It is a great pride for the Portuguese team to welcome the Group Executive Committee to our operations. It means, for the local team, an acknowledgment of the Group's commitment to the development of mobility in our country as a central lever for development, energy transition and social and economic solidarity.
Sérgio Soares, the CEO of Transdev Portugal
The Guimarães region, more precisely the Ave Intermunicipal Community, is an area of ​​strong strategic importance for Transdev, as it confirms the consolidation of Transdev's brand presence in the north of the country, where the different transit authorities are implementing different operational models. It is an exciting development of mobility in Portugal and will provide, in a few years' time, an excellent study of the best paths for road mobility at the service of various communities.
Specifically, this contract aims to reach the expectations of the operation defined by the local regional transit authority on the ground and which will serve the populations of Cabeceiras de Basto, Fafe, Guimarães, Mondim de Basto, Póvoa de Lanhoso, Vieira do Minho, Vila Nova de Famalicão and Vizela.