In a closely fought online contest, the cup winning Coastliner journey by Transdev between Leeds, York, Malton and Whitby emerged victorious at the end of a tournament including dozens of bus services across the country.
Over 2,000 people voted in the final, which saw Coastliner take on the Isle of Wight's Needles Breezer open top bus route to claim the coveted title of England's finest.
The Yorkshire favorite clinched the win after a nail biting 24-hour final vote, taking 54.3 per cent of the vote sparking scenes of celebration at the home of Coastliner in Malton, and across the White Rose County.
High-profile supporters, including the tourism agency Welcome to Yorkshire, the Yorkshire Post newspaper, radio stations Minster FM and Yorkshire Coast Radio, and even Shed Seven front man Rick Witter joined a host of happy customers to propel Coastliner to a famous victory.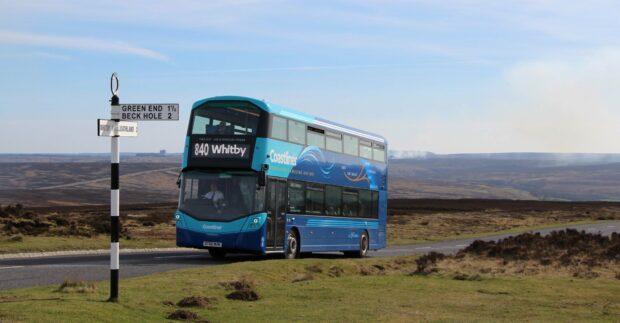 I'm delighted that Coastliner has again been named the nation's favorite, and no wonder there's a lot of love for the service and for our amazing team who make it the success it undoubtedly is. We know from the many positive comments we receive from our customers all year round that our Coastliner 840 bus is the ideal way to see two great Yorkshire cities, the North York Moors and the beautiful coast, without the stress and hassle of driving or parking.
Alex Hornby, Coastliner CEO
Alex Hornby continues: "Over the last couple of years our Coastliner service has been transformed, with amazing new buses packed with customer friendly features, including superfast and free 4G Wi-Fi, USB and wireless charging points, audio-visual next stop announcements and comfortable coach seating. This wonderful win is ideally timed, as we begin our journey beyond lockdown and gradually welcome customers back along the route. As travel restrictions are eased, we look forward to seeing visitors old and new to take a seat with us and enjoy the grandstand Yorkshire views which make Coastliner a worthy World Cup winner!"
Coastliner's route to victory in the World Cup of English Bus Routes saw it compete in four qualifying matches, plus quarter and semi-finals, against scenic bus routes from Cornwall to Northumberland. The virtual trophy win comes after the ever-popular Yorkshire bus service won the coveted title of Britain's Most Scenic Bus Route in May 2018 in an online poll of over 15,000 people, sponsored by the transport users' watchdog Bus Users UK.
Media coverage of that win saw Coastliner become a worldwide TV star, attracting visitors from around the globe to Yorkshire to sample the scenic journey for themselves and with tourism businesses looking to reopen as lockdown restrictions are eased, it's hoped the latest poll success will help to bring many more to enjoy glorious views in comfort on a World Cup winning Coastliner bus.
Full details of all Coastliner services and money-saving tickets for unlimited travel are available online at coastliner co.uk and on the free to download Transdev Go mobile app.