Transdev has teamed up with the region's favorite morning newspaper, the Yorkshire Post, to create a specially-liveried 'Yorkshire Heroes' bus to remind everyone of the key role NHS staff and key workers have in our everyday lives as they maintain vital services across the White Rose County.
The bus carries photos of Yorkshire key workers and NHS staff. Each was nominated by proud friends and relatives, and the organizations they represent to appear on the sides of the bus.
Vital work by Transdev's own teams during the lockdown to keep transport links running for key workers and those needing to reach food shops and essential services is also recognized with pictures of some of its drivers, engineering and support staff based at its depots across Yorkshire.
As key workers themselves, our teams at York and Malton know how important it is to help others who need to make a journey by bus. Thanks to them, our buses are clean, safe and ready to go. There are many unsung heroes who deserve our community's thanks for their contribution throughout the pandemic, so we're recognizing them by featuring their photos on our 'Yorkshire Heroes' bus, along with the jobs they do – including our amazing NHS workers and those who support them. In partnership with the Yorkshire Post, we invited nominations to appear on this very special bus, one of a series we've created across the North. We're delighted with the positive response from people who share our desire to recognize those who continue to do so much for us all.
Alex Hornby, Transdev CEO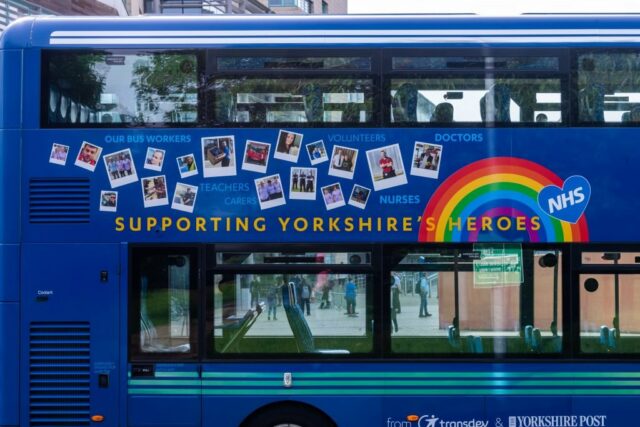 Among those who appear on the Yorkshire Heroes bus are members of the team from York College – Tony Pollard, Jim McMahon Chloe Black, Gerry Keenan and Ian Dawkes – who together have produced dozens of transparent safety face visors for use in the National Health Service.
When the country went into lockdown York College was instantly proactive in the region, sending supplies to the NHS and mass-producing face visors to support those working on the front line. It has been a challenging time for all, and like many organizations, our staff and students have been amazing, working together to help the community.
Paul Lawrence, Director of Marketing at York College
The Yorkshire Heroes bus will be seen across Leeds, York and to the North Yorkshire coast on Transdev's award-winning Coastliner route. It's one of a series of special 'Heroes' liveried buses dedicated to communities across the North served by Transdev's buses, including Harrogate where the bus operator is based.
More information on Transdev buses in Yorkshire, including up-to-date advice on travelling during the Coronavirus pandemic, is available online at: https://www.transdevbus.co.uk.