Every year, over 5.8 million passengers travel with Transdev's ferry subsidiary, Styrsöbolaget across the Göta River and in the archipelago in western Sweden. Styrsöbolaget has been an important part of Gothenburg's and the archipelago's everyday life since 1922. On May, 2022 it was time to celebrate the company's 100th anniversary with an event that included a historical exhibition, speeches and a presentation of the Styrsöbolaget's new brand profile.
In 1922, Gustaf Samuelsson and a few other islanders founded « Styrsö Nya Trafik AB » with the aim of operating boat services all year round for the benefit of the population of Gothenburg and the islands. This was the start of the shipping company that is known today as Styrsöbolaget.
The old coal-powered vessels have been replaced by new vessels with more sustainable and environmentally friendly propulsion, but the soul and vision remain. It is important for us to acknowledge this fantastic history but also to talk about the way forward.
Bertil Pevantus, CEO of Styrsöbolaget
The anniversary celebrations started already on May 3-4, 2022 with an « open boat » at the quayside at Brännö Rödsten, Styrsö Bratten and Eriksberg. On board the boat, an exhibition on the Styrsöbolaget's 100-year history was shown, with a view to the future. On May 5, it was time for a big 100th anniversary event on board M/S Kungsö at Stenpiren in Gothenburg with representatives from Västtrafik (the Regional Transit Authority), Transdev and Styrsöbolaget, as well as politicians, suppliers and industry players. The press was invited and during the event Styrsöbolag's new logo was unveiled.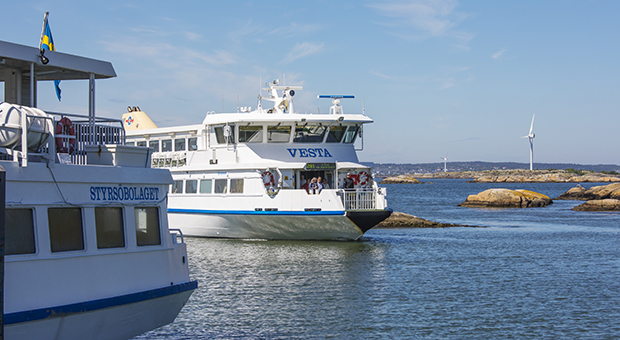 The logo has been modernized, with a new font and a new wind rose. It also has a clearer relationship with Transdev. We are an important part of the daily lives of the people of Gothenburg and the archipelago, and we want to continue to contribute to the development of both the city and the archipelago. With the new logo, we are taking our unique history and knowledge as a starting point for building a more sustainable future.
Anna Höjer, CEO of Transdev Sweden
More about Styrsöbolaget:
Styrsöbolaget is a traditional Gothenburg ferry company that operates maritime public transportation in Gothenburg's southern archipelago and across the Göta River in western Sweden on behalf of Västtrafik. During the summer season you can also travel from Stenpiren to Hönö Klåva in Gothenburg's northern archipelago. In the southern archipelago Styrsöbolaget also operates freight transport on behalf of the City of Gothenburg. The company is a subsidiary of Transdev Sweden, which also operates bus services on behalf of Västtrafik in Gothenburg, Mölndal and Partille with the largest fleet of electric buses in the Nordic countries.