Transdev's light rail operation in Barcelona, TRAM is kicking off the second edition of Art al TRAM, a project to bring urban art to the underground walls of the tram, with cultural platform Rebobinart, by renovating the walls of the Besòs stop on Trambesòs T5 and T6 lines.
Amaia Arrazola is the artist chosen to paint the mural on the two walls inside the Besòs tram stop. On one side, the mural will feature representations of TRAM values through several people showing attitudes reflecting equality, sustainability and inclusiveness. And, on the other side, the artist has chosen to depict several local species of birds that can be seen right around the stop. The work began on June 1 and is expected to finish by the 15th of the same month.
Amaia Arrazola's participation, in short, will pay tribute to a metropolitan city, modern, global, connected and inclusive, that doesn't turn its back on the environment. It will also represent the diversity of people who use public transportation and connect the interior and exterior of the stop.
The artist, born in Vitoria-Gasteiz and living in Barcelona, has shown great mastery of various techniques, including print illustration, mural painting and ceramics, which she uses to experiment and create extremely expressive pieces.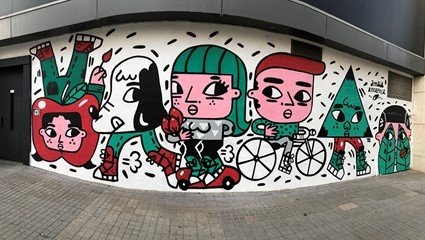 Work by Amaia Arrazola
What is Art al TRAM?
Art al TRAM is a project to promote quality art interventions at several stops in the two TRAM networks, Trambaix and Trambesòs. The project aims to use art to revitalize these spaces and make them more pleasant. So, TRAM is focusing on social and environmental values, bringing to the people a city model based on sustainability, social innovation and inclusion through art and culture. This project began in 2020 with the piece by Iker Muro at Cornella Centre stop, with over 1,600 m2 representing multiculturalism and diversity among tram riders with a play on overlapping profiles that generates a sense of movement.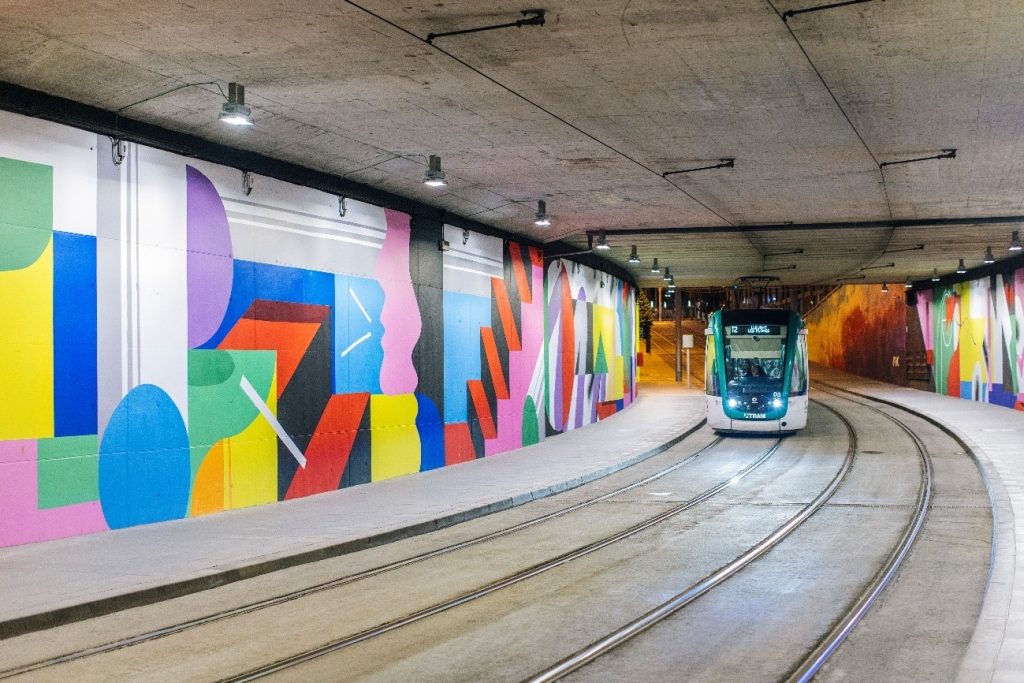 Mural by Iker Muro at the Cornellà Center stop on the TRAM's Trambaix network
Rebobinart is the cultural platform that is managing and producing the mural. Since it was founded in 2012, this organization has had a clearly social philosophy of putting urban art at the service of social and cultural dynamization of public spaces. They work to promote the most elaborate expressions of urban art and destigmatize the perception of an art form that is often considered vandalism and invasive.