If you are in the UK, you catch this colorful bus turning heads on routes across the northern part of the country – and flying the flag for Transdev UK's multi-national team.
A specially designed double-decker decorated with the national flags of Transdev's 1,400-strong team in Yorkshire, Lancashire and Greater Manchester is now on the road, as the forward-thinking team reveals its plans for recruitment and growth this year.
The bus features the flags of 40 nations from every continent on Earth, including countries as far afield as Nigeria, China, Ecuador and Slovakia, each one highlighting the diverse nature of Transdev's team. Its introduction comes as Transdev in the UK steps up its campaign to recruit more new drivers, engineers and support staff from all backgrounds to get on board with its expansion plans in 2022.
We're proud to have 40 countries represented by our 1,400 colleagues across the North – especially at a time when the whole transport sector is responding to a national employee shortfall. We're welcoming and training record numbers of new drivers right now, and we're on the lookout for more. We offer an industry-leading benefits package to newcomers joining our team, including a £1,000 welcome bonus for qualified drivers, free travel on all our buses and most others across the North, generous health and welfare discounts and rewards for our best performers. We also encourage our people on the road to career success through our 'Step Up' talent development program, and later this month we'll celebrate the talents of our team as we have just done with our annual Amazing Awards, in the company of world heavyweight boxing champion Frank Bruno MBE. Our people come from a wide variety of backgrounds, and they all have one thing in common – they all care passionately about giving amazing customer service.
Alex Hornby, Transdev's CEO in the UK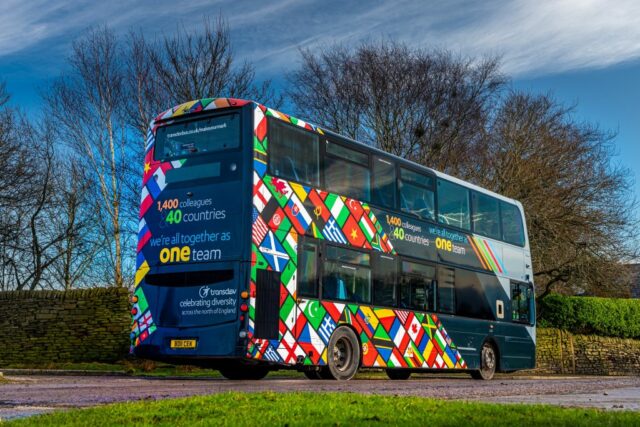 As the colorful celebration bus takes to the road, Transdev UK is also preparing for a year of investment at its 10 branded operators across the northern part of the country. Its plans include:
More and better buses for Team Pennine in Huddersfield and Halifax, as Transdev continues to invest to raise quality standards after it took over the operator in July 2021
Better facilities for colleagues based at its Keighley depot
More new routes, better buses and staff facilities at Rosso's base in Rochdale
New customer service hubs at Elland in West Yorkshire and Blackburn in Lancashire, to deliver better information and performance
Full renewal of its dedicated fleet for school and college services in Harrogate
Two more 'The Academy' colleague training centres, to join existing facilities at Harrogate and Burnley
The local team is also working to secure Government approval for plans to introduce 71 new electric buses in Harrogate and West Yorkshire.
We're ready to make 2022 a year of successful growth, and we're looking for people to make their mark in an organization which will help them grow with us. We celebrate talent and diversity, and we offer one of our industry's most rewarding packages – so there's no better time than now to come on board.
Alex Hornby, Transdev's CEO in the UK