A Bus Entirely Dedicated for Training Equipped with a Virtual Reality Driving Simulator
Transdev Canada's training team has a new tool: a vehicle dedicated to training drivers that will meet them directly at the various sites of operation. Specially designed for the occasion, the driving simulator inside this bus will make it possible to intervene in specific situations that drivers encounter during their outings on the road.
This advanced simulator allows drivers to immerse themselves in real driving scenarios. Sitting in a driving position modeled on that of a coach bus, the driver will be able to perfect all aspects of his driving.
It will be possible to immerse a driver in various meteorological conditions, such as winter conditions, sunny, and rainy. The simulator will also help prepare drivers for specific road conditions regardless of the time of year. Thanks to the immersive environment, a world of possibilities opens up to us for training.
Also unprecedented, thanks to the talent of our maintenance teams, the "Transdev Academy" bus is at the forefront of environmental technology: equipped with solar panels, it is energetically independent for the powering of equipment such as the simulator, heating, etc. It has also been the subject of great engineering in terms of its complete redevelopment, and constitutes a model of mechanical, technical and technological modernity.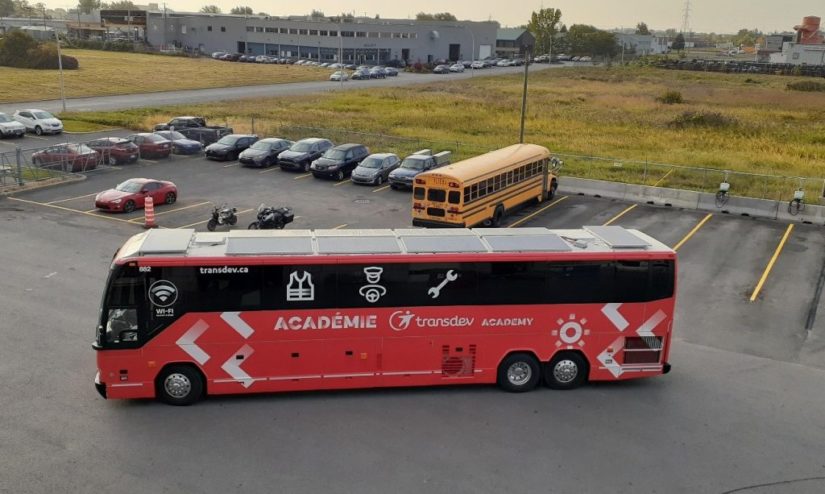 MobiMe, a Mobile Application to Ease Life for Drivers
As of September 9, 2020, Transdev is also deploying MobiMe, the "Connected Driver" application in its operations in Quebec. Accessible from any computer, tablet or smartphone, MobiMe offers autonomy and quality of life to all our drivers.
With MobiMe, Transdev drivers in Quebec can now control their planning, their requests for vacation or days off, offer shift exchanges between colleagues or even use the instant messaging feature. This tool will also be used as the main communicator between the company and its employees, as every main event, important message and any other relevant information will be easily accessible to everyone at all times.
Since the thoughts and opinions of drivers regarding many business development topics are crucial, MobiMe's platform will also enable polls and news exchange. Drivers and other employees will have access to all onboarding documents, whether they wish to view them or have them all in one place with easy access. They will also be able to access their favorite links as the app will give them full access to navigate from one place to another.
 With MobiMe, Transdev Canada's drivers are now connected, more autonomous and gain in quality of life.