Transdev Australasia's Reconciliation Action Plan (RAP) has helped guide the company's journey as an organization to improve the understanding of and connection to the First Nations communities.
Transdev will continue to focus on fostering better relationships, supporting opportunities and encouraging respect and understanding in the next part of our Reconciliation journey.
Our vision for reconciliation is to empower and connect Aboriginal and/or Torres Strait Islander people and Non-Aboriginal people to move freely and respectfully together across the sacred First Nations land and waterways that Transdev proudly operate on.
Key focus areas for Innovate RAP 2021-23
A stronger focus on supporting the social and economic empowerment of Aboriginal and/or Torres Strait Islander communities through Project Rise and dedicated employment programs that will run over the life of the plan.
Increasing its commitment to cultural education, training and development for all employees, particularly regarding respect and cultural safety, including psychological safety at Transdev.
More tailored approaches to attraction, sourcing, and engagement of Aboriginal and/or Torres Strait Islander job seekers.
Meet our artist: Vicki Golding
This year Transdev were privileged to commission local artist Vicki Golding to create an artwork that symbolized the company helping to create journeys and connect communities. Her striking cover artwork features in the RAP.
The artwork titled 'Along the Journey We Learn' recognizes the connection between land waters and people. This artwork is inspired by the history of how Aboriginal people have communicated stories and knowledge through river systems, catchments and sea currents. The stories transport across different language groups and connect peoples between the freshwater and saltwater regions.
This artwork recognizes the Transdev action planning in this Reconciliation Action Plan, and aims to enrich, enhance and celebrate culture and honor our histories.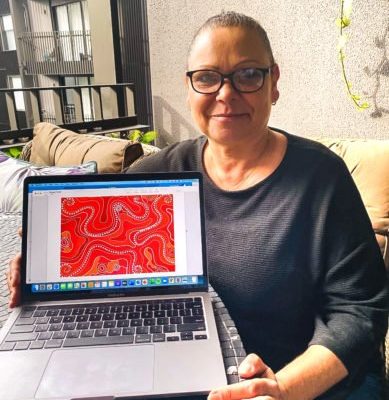 My name is Vicki Golding and I am a Biripi woman, born in Gadigal country New South Wales. I spent my childhood growing up in Redfern also gave birth to my 3 children there and am now residing in Malabar south eastern suburbs.
As a proud Aboriginal woman I am very passionate in demonstrating my cultural heritage and identity through my art practice which shares Aboriginal culture, community and history.
Practicing Aboriginal art from a young age has given me the skills and experiences to work professionally as an artist, I have been given opportunities to work with other organizations in communities and sports. Working and painting with children in local schools, painting the junior grade headgears for the local La Perouse football club and commissioned to design and paint Johnathan Thurston's headgear which he wore in the Indigenous Allstars games in 2012, 2013 and 2015. I have also had the opportunity to design the NRL Wests Tigers Indigenous jerseys 2018 and again 2019 which was a collaboration of my and my son Dennis's artwork/designs.
Vicki Golding, artiste