After a year of postponement, the Olympic Games in Tokyo finally took place in July, where the Netherlands managed to win a record number of medals. But 'Team Netherlands' is still far from done in the land of the rising sun. Starting on 24 August, the largest ever delegation of Dutch Paralympians represented the country at the Paralympic Games.
The Dutch delegation features an athlete who can rightfully be called a Transdev Ambassador is hand biker Tim de Vries. In addition to being, a multiple world champion in hand biking, he has also been a bus driver for Transdev subsidiary, Connexxion in Zaandam for almost 20 years.
Sports is everything to me, the Olympic dream really runs like a thread through my life.
I was a gifted trampoline jumper. My life largely played out in that hall. I even met my wife there.
We were competing on the trampoline to see who could touch the ceiling of the gymnasium. I succeeded, but when I landed, I ended up on one leg. It couldn't handle the force and it shattered, resulting in arterial bleeding. It was bad, really bad.
The doctors tried to save my lower leg, but to no avail.
After the accident and the loss of my lower leg, I was told that I would 'still receive the blow'. We're 25 years down the road now and apparently that blow has yet to come.
Tim de Vries
In 2003, the year Tim started as a bus driver in Zaandam, he started a sport that was new to him, rowing. « I was made excited by a friend and found rowing incredibly fun. In an adapted chair I could keep up very well. What I wanted to achieve in gymnastics, I now wanted to achieve in rowing: competing in the Olympics. »
Yet things took a different turn, because in the end it was the hand bike with which Tim became really successful. « At the end of 2010 I started hand biking. And as you may have already understood, I always want to go for the highest achievable result. I participated in my first world championship the following year and finished fourth. I can tell you; no one has ever been happier with a fourth place! »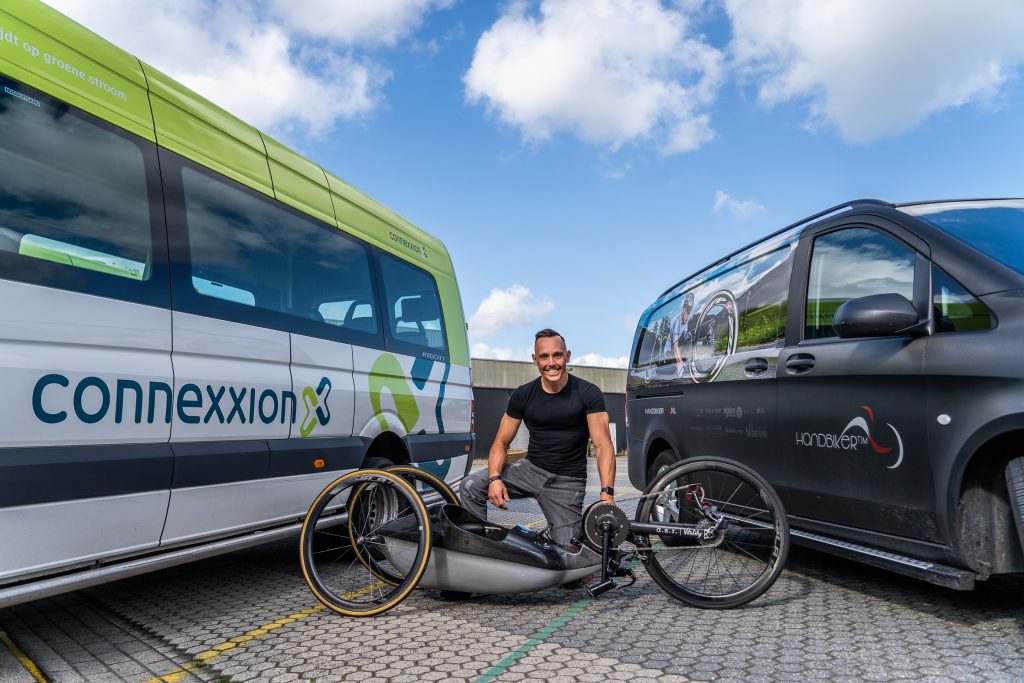 Still, that fourth place was just the beginning. Tim quickly established himself in the world's top hand bike scene and in 2016 his dream came true. He could compete at the Paralympics in Rio de Janeiro.
« Just like at the World Championships, the Olympic hand bike program consists of two disciplines, namely the time trial and the road race. I finished fourth and eighth, but I have developed enormously since then. » And there is no lie in that, because in 2017, 2018 and 2019 he won the World Championships.
The World Championship in 2020, like the Olympic Games, was postponed for a year, but at that championship Tim got a bit of a reality check. « I underperformed there unfortunately. The podium was far away, but actually that was a very good learning moment. I realized that I had put too much pressure on myself. That realization has made me stronger, so I will be heading for Tokyo with a very good feeling, » he says enthusiastically.
That enthusiasm is shared by Tim's colleagues in Zaandam. While Tim is at the depot for this article, he can't move a meter, or he'll be accosted by colleagues who are happy to see him. « Currently, I am not riding the bus for a while. I'm on leave so that I can fully prepare for the Games. That makes it even more special that they are so sympathetic, they are very supportive of me. There are even colleagues who come to cheer me on at competitions, » he says proudly. Tim is not only an inspiration to his colleagues, but also tries to pass on his love for sports and exercise to others. « Together with top athletes Nicolien Sauerbreij, Gregory Sedoc and Suzanne Schulting, I am an ambassador for the Dutch organization a.s.r. Vitality, a program that rewards sports and exercise. »
While Tim already trained for seven weeks at altitude in Namibia in January and recently returned from a training camp in Spain, he is now enjoying some time with his wife and three children. On Sunday the 22nd, Tim will then finally leave for Japan, where he will not only defend his own honor, but also that of his country. « At World Cups you compete more for yourself, as an individual. Now I will be acting on behalf of an entire country. We are going there with a fantastic group of athletes and with medal opportunities in many different disciplines. It's almost impossible to describe how proud I am that I can represent the Netherlands, » he concludes with a big smile.
Tim will be in action for the first time on 31 August, 01:00 Dutch time. He will then compete in the time trial. On September 1 at 03:00 he will pursue the gold medal in the road race. If you want to stay up to date with Tim's preparations and his experiences at the Paralympic Games, follow him on Instagram!