Transportation on Demand (TOD), the Connexxion Taxi department of Transdev in the Netherlands, has been strengthened at the start of this year with the knowledge and skills of someone who has more than earned her stripes in the transportation sector. Minke Jansma is the new Human Resources Manager for TOD and with her 20 years of experience in the sector she is a welcome addition to the team.
Her experience comes from a range of employers and positions, but the work at her previous employer still causes a bit of a stir. Minke must laugh about it: « if I were to get a nickel for every time someone asks me why I switched from the Dutch Trade Union Confederation (FNV) to 'the opposition'… »
Minke studied Personnel and Labor at the Noordelijke Hogeschool Leeuwarden and Sociology at the University of Groningen before eventually working for an automation company in Groningen. « When I had just become a mother, my then partner received an offer to work in Franeker or Ter Apel. It became Franeker, back to 'my' Friesland. The problem was that I was going to live there with a young child and did not really know anyone."
"My neighbor told me that she worked at a taxi control center and asked if that was something for me too. So in 2002, I started working there, my first introduction to the industry. The work was a really good way to get to know people, » recalls Minke with satisfaction. « And at that taxi control center we worked as a subcontractor for Transdev subsidiary Connexxion. So, in a way I'm 'back'. »
From a dispatcher, Minke became Head of Personnel & Organization, but after about seven years she was ready for a new challenge. « Working with constantly expiring taxi contracts was starting to bother me a bit, » she admits. « Then I came across a newspaper advertisement from the trade union FNV and I took the plunge. »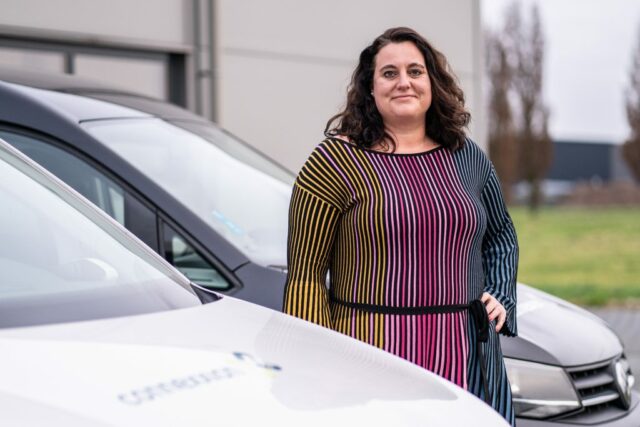 From Director of Transport & Logistics to Collective Labor Agreement negotiator, from team leader to Sector Head of Transport and Manager Collective; Minke grew to become a valuable force within the FNV and therefore a well-known figure in the business. « In my view, the trade unions have a clear role to play, engaging in dialogue and understanding and valuing each other's interests. For me, looking for a connection has always been important. Without an employer there is no employee, but without an employee there is no employer either. That has always been the guiding principle for me. »
But when Minke received a bouquet of flowers as a thank you for 12.5 years with the FNV, she was set thinking. « That was quite a moment, » she says, laughing. « After giving it a lot of thought, I made the well-considered choice to go in a new direction. I felt I had gotten too far away from the work floor. The taxi industry has always interested me, both before and during my time with the FNV. Through the contacts I've made over the years, I finally made the move to Transdev. And after a month in my new job, I can only conclude that I haven't been bored for a single day. I've seen all the different sides of the sector, so I know the players and what interests are at stake. I hope to be able to make full use of that knowledge in my new role. »
As mentioned, her arrival has not gone unnoticed and some were surprised by her move to 'the other side of the table'. But not in a negative way, Minke says. « I have really been welcomed with open arms. From the Management Team came the remark 'you're causing a bit of a stir again, and you know, there's no shine without friction', and I was actually very pleased to hear that, » she says, visibly amused.
Minke has a clear focus for her future at TOD: « I see plenty of challenges. The last few years have been difficult for the entire sector. A lot of uncertainty, negativity. The trick is not to become soured by this negativity, but to keep our eyes on the future. After a period of downsizing at TOD, it is time to build, strengthen and work on even better quality for both customers and our employees. In my view, we can gain a lot from collaborating with other business units, Transdev-wide. We're already doing this more and more: think of TOD vehicles that supplement the public transportation offer in less busy areas, or the cooperation with Witte Kruis ambulance services in the field of ride planning. There are many more ways in which we can join forces and learn from each other. I'd be happy to make a case for that. »
« I'm really looking forward to doing this with my colleagues, » concludes Minke. « What I like is that 'taxi' is very good at getting things done with a relatively small group of people. For me, utilizing colleagues for their individual specialties, combined with the abundant 'hands on' mentality, is the key to a successful future. »