Nicolas is sitting down while scanning the room. No detail escapes his attention. The Safety Manager of the Transdev Autonomous Transport Systems team is the safety specialist and his expertise is well-known. At each stage of an autonomous shuttle service, he ensures the safety of passengers, locations and systems. 
Nicolas' and the Safety team's main missions are to: 
Ensure the safety of teams and passengers,

 

Provide safety and security files to authorities and public transport operators,

Define risks, describe the security, safety and cybersecurity requirements for each contributor within the system,

Ensure that the system meets all the needed requirements before deployment,

Protect information technology and autonomous transport systems.

 
From nuclear to aerospace to automotive, Nicolas' career has enabled him to tackle security issues from every angle.  And today, his experiences allow him to think differently and adapt his expertise to the field of autonomous mobility, where a new aspect also changes the game: managing a fleet of shared vehicles and not only a private vehicle.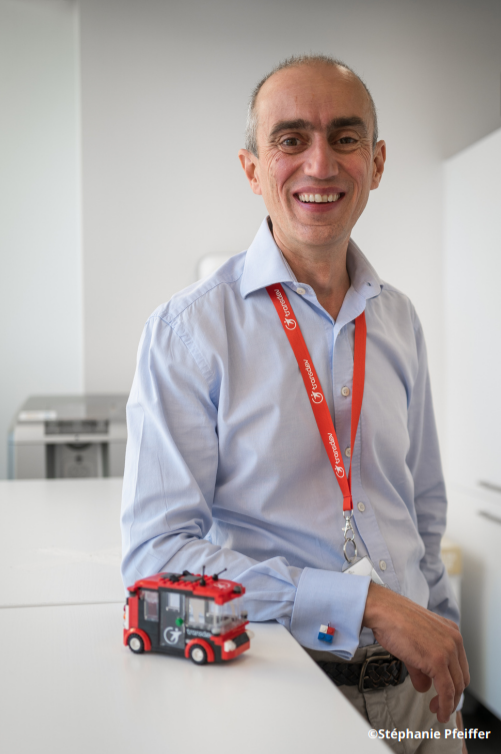 It is a job with strong responsibility, which gives the obligation to deal with absolutely all known risks: "Look for example, do you know the scenario of wild animals escaping from a circus?" 
Is this a joke? Not at all: "This happens on average once a year, and if a shuttle crosses a tiger … This is one of the rare cases where the supervision operator will take action, not to open the doors, but to keep them closed. " 
Nicolas' day is punctuated by "failure rates", "chances" and "braking distances" … key parameters of the typologies of scenarios that he masters at the tip of his fingers. And when we talk to him about the still unknown risks, there's a spark in Nicolas' eyes: "These, we must imagine them, and of course create scenarios to respond to provide the best way possible." 
Nicolas has so much imagination that he created the first autonomous Lego shuttle, the embodiment of the unsuspected beauty of his profession: creativity is a precious ally, especially when it is put at service of passengers' safety. 
Contact our expert

Nicolas Morael
Business Development Director -Transdev Autonomous Transport Systems
Contact mail
Fields marked with an asterisk are required.