Remco is Service Planning, Scheduling & Optimization Manager, a position in which he directs mainly transportation specialists and roster maker processes. "Our department is the link between transit planners and schedulers and other departments such as Fleet, Real Estate, Tender Team and the Zero Emission Department. For example, the charging time and range of electric buses has a direct influence on the rosters that need to be made, so we communicate a lot with different departments.
Remco has been working within the company for 30 years and during that time he has held a number of positions. "I've actually climbed the company ladder".
I started as a part-time bus driver. That was a lot of fun, because I had a traffic school for car, motorcycle, bus and truck driving licenses, a wonderful combination of work at that time. I regularly came to my bus driver training with a truck combination.
Remco
However, when a vacancy became available internally for a bus instructor, he had no intention of applying. "They were looking for someone who had been working in this company for some time, I didn't really think I would stand a chance. But all of a sudden, I was approached asking why I hadn't applied. Apparently, they trusted me." After years as an instructor, Remco had to abandon teaching in the early 1990s due to government cutbacks and had to choose between working as an inspector or continuing as a bus driver. "I chose the latter," he says. Later, through positions as roster maker and within the tender team as an operations expert, he ended up in his current position some 8 years ago. "I don't remember having applied a lot, actually I was asked all the time," he admits laughing.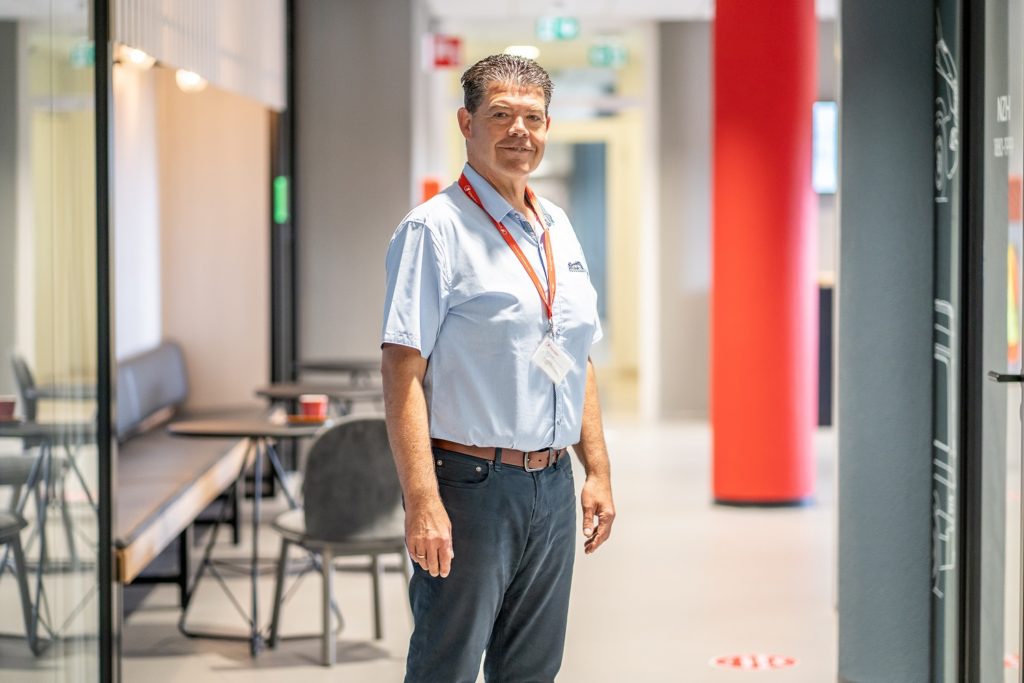 But one of the most beautiful periods in Remco's rich work history took place outside the Netherlands. "For three years I worked on a special project in Ghana. The new president there had made a promise during his election to realize public transportation. The Dutch government then made a deal with the Ghanaian government during a trade mission. I was sent there together with colleagues from Arriva (Engineering), GVB (Director) and Transdev's subsidiary Connexxion (Operations). I went along with them to set up the operation and to train roster makers for the trade, a fantastic experience," he says proudly.  
What was perhaps most memorable was that the Ghanaian union filed a complaint about the Christmas gifts we had devised for the drivers there. They were to receive a coke and donut from the company, we thought we would be doing them a great favor, especially in the first year where we had zero income. But they would rather have something they would benefit from for a longer time: a chicken, and not an American frozen chicken, but a real living Ghanaian chicken! In the end we handed out something like 2,000 live chickens as Christmas presents, I will never forget that.
Remco
As if Remco isn't busy enough with his work at Transdev yet, he also volunteers at the Ronald McDonald House in Amsterdam. "We offer parents of children who have been admitted to hospital a place to stay, so that they can spend the night near their child. I work night shifts; I sleep there myself and am on standby to welcome and guide parents. Normally you work in periods of 3, 4 or 7 nights, but because of the COVID-19 measures it is not desirable to have many different volunteers on site. That is why we temporarily work with a core team that runs a series of 7 night shifts in a row, so that you have as little risk of infection as possible, you should not think about a parent getting the coronavirus with all the vulnerable children at the Medical Center. And when I finish my night shift at 9:00, I drive to Hilversum to be ready for my 'normal' work there again."
"Everyone in the company is useful, from cleaner to director, we need each other" concludes Remco. "We're all a fantastic, motivated team. I couldn't wish for a better employer."