"We used to hug a lot, but unfortunately that's not possible at the moment," says Martin van den Berg (36) laughing. The cheerful and brand-new Assistant Workshop Manager of the Technical Services of Transdev subsidiary Connexxion in Haarlem, the Netherlands sits in an almost empty canteen together with mechanic Erik Trommel (27). "Normally the breaks are very enjoyable moments on your working day. But at the moment they're spread out throughout the day to make sure the canteen doesn't get too crowded. Understandable, but a pity."
In their enormous workshop the mechanics of the technical service are responsible for the maintenance and repairs within the fleet. "Before I came here about four years ago, I only worked as a mechanic on passenger cars. I am glad I took this step; this is so much more challenging than just dealing with tires and periodical checkups," says Erik.
Martin, who has been working in this field for 9 years and previously worked at the technical service of Schiphol and Uithoorn, adds: "this work is indeed very varied, very broad. One moment you are working on an electric bus in the workshop, the next moment you are on site to help out a driver."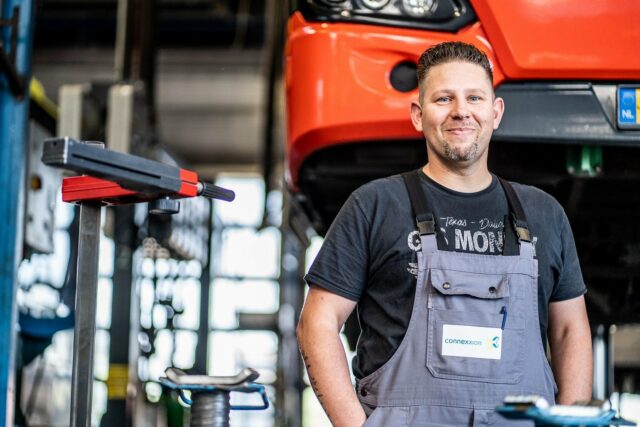 Yet there are many drivers who have a wrong image of the technical services workload and what their jobs exactly entail. " Sometimes it seems like they think we're deliberately letting them wait for us when their bus breaks down," says Martin.
Erik recognizes that: « I don't think they have any idea how busy we are. » Even though some drivers can act a little frustrated, the mechanics know how to lighten the mood: "just make some jokes, some small talk. That usually helps. When they ask what took us so long, I sometimes reply I had to get some snacks first," Martin laughs loudly.
Now that the buses are still running with a limited timetable, they have time to solve the less urgent defects.
Now that there are fewer buses on the road we don't have to be on site as much and we now also do a lot of the work that we usually outsource. Because there is less traffic on the road there are also less cases of accident related damage.
Erik
However, it is unavoidable that a driver at some point will accidentally damage a vehicle, which is illustrated abundantly by the two with anecdotes.
It is a shame if a new bus has damage or if something has just been repaired and it comes back broken a little while later. For example, there was a colleague who had put his heart and soul into installing a new door, only to be confronted with the same door driven to pieces only three days later. The kit around the window edge hadn't even dried yet.
Martin
Erik understands that the new Ebusco electric buses which will be used in Haarlem (among other cities) later this year will be equipped with cameras instead of mirrors. "If you consider that on the one hand a mirror is nicked off regularly and on the other hand the price of such a mirror can rise to 1300 euros, then I understand that choice!"
Because electric buses have been in use for some time now, the mechanics have also followed basic training courses for the maintenance of these vehicles. "The work on those buses is a bit different, certainly cleaner. Although a « dirty » diesel also has its charm," says Martin.