On  December 13th is the official traffic start for our new contracts in Gothenburg, Sweden in which the most important factors in the agreements are that we live up to the quality and punctuality that we have promised the local Public Transit Authority, Västtrafik.
To ensure this, good knowledge is required from our employees, old and new. And thus it has busy days for the Training Team in Gothenburg to set everything up. The team consists of Mensur Karic, Eva Littorin and Ulf Lönnberg. Together, they have planned and completed training materials for over 900 drivers and last week it was time for the first of 45 training sessions.
The trainings are adapted for both the drivers who currentlyh drive for Transdev in Gothenburg and for the new drivers from Mölndal and Partille. The courses are also adaptable to the different traffic assignments and are divided into two parts. Each driver receives a total of 1.5 to 2 days of training.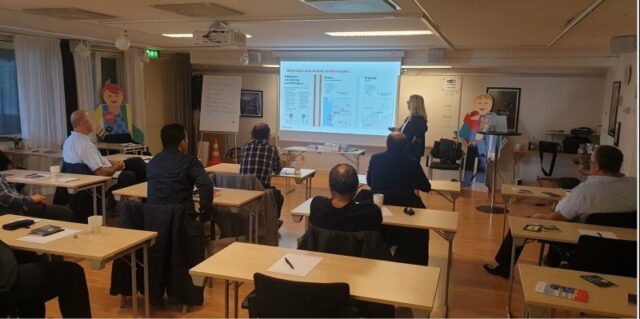 Part one of the training includes everything from Customer Service under the concept « the Good Customer Meeting », the Three Zoned Tariff System, Conflict Resolution, Public Transit Lanes instructions, Smart Driving and our WHY. The education also contains important contract knowledge and awareness of social sustainability / accessibility.
The training is carried out at Ullevi Stadium to ensure enough conference rooms with plenty of space to gather employees due to COVID-19 physical distancing regulations
It has been a lot of logistics and planning to get everything together, but now we are on the way which feels very exciting.
Mensur Karic, Head of Training in Gothenburg
Part two of the training is about vehicle knowledge and contains more practical exercises, such as test driving / reversing exercise, how do I charge the bus, how does the tachograph work and more.
This part of the education is usually the most popular, because there are more practical elements in it.
Mensur Karic, Head of Training in Gothenburg
The drivers who have been newly hired by Transdev already received a review of Transdev as a company at the time of employment, what we have to offer and what policies and guidelines apply.
There is a lot to take in when you are new and to make it easier for employees, there is also rehearsal material in the form of video that is published on the intranet, so that you can rehearse and maintain your knowledge. All employees will also receive a small driver's guide that you can take with you in your daily work. It contains, among other things, information about what it is like to be employed at Transdev, important telephone numbers and what digital tools are available to facilitate daily work.
By December 6, 2020 all 900 drivers will have been trained.