Patricia has been back with Transdev Service & Safety for 3 years now. « I started in 2011 through an employment agency in a so-called 'Taskforce Project'. After having done some other work, I joined Service & Safety in 2017 ». Peter walked a different path: « For 24 years I was a bus driver around here. In this job I came into regular contact with Service & Safety and about five years ago I decided to make the switch. Now I'm 'on the other side' and support my former colleagues on the bus ».
Together with the rest of the team, the duo is ready to provide support on a daily basis in the Eindhoven region. « We work in three teams of two, so we can be flexible in serving this large area, » Patricia explains. The COVID-19 measures ensured that their work became a little different, according to Peter. « In the beginning the question for us was mainly 'what can we do?'. Riding along in the buses is not responsible, so we consulted with the drivers and supervisors on how we could best do our work in these times. In the end, this came down to establishing 'hotspots' and being present there preventively. In addition to responding to incidents, of course ».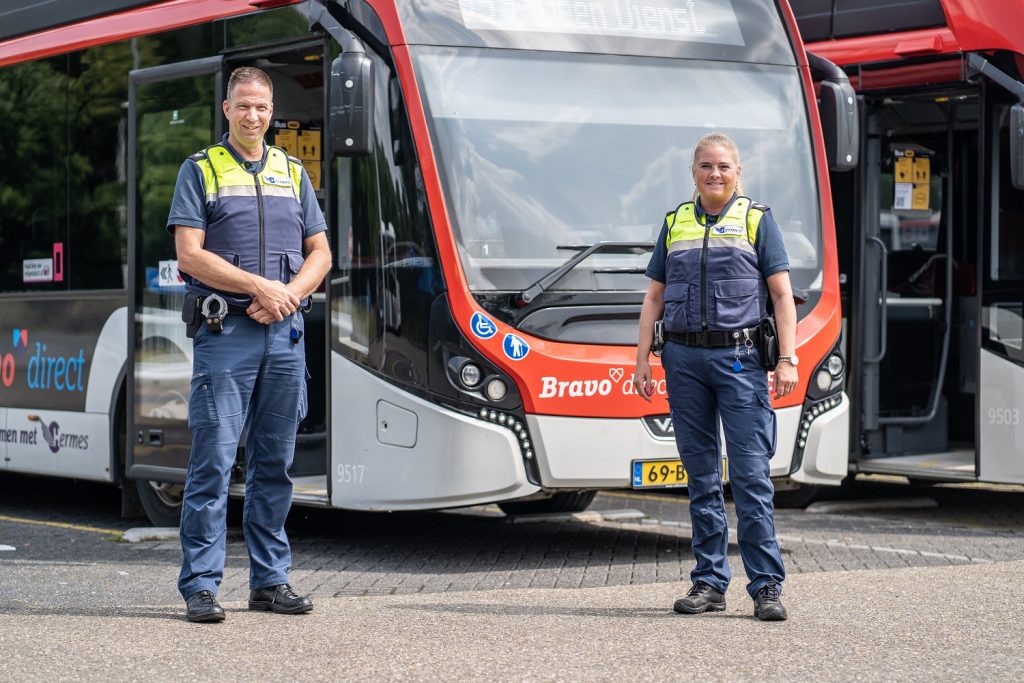 Since the introduction of making face masks mandatory in public transportation, it has also been possible for drivers to report passengers who do not wear a mask or report fare-dodgers, for example. « The drivers already had this possibility, of course, by contacting the Operational Control Center (OCC), » explains Patricia. « But with that contact between the OCC and the driver, many of the passengers can listen in. Now there is the possibility to make 'silent' reports. These are received by the OCC and by us, and if we are in the area, we can offer immediate assistance if necessary using protective equipment such as gloves, goggles and face masks. In addition, these reports give us insight into where the previously mentioned hotspots are ».
Some of the locations where reports are regularly made are the various asylum seekers' centers in the region. Peter explains that it is mainly due to ignorance rather than unwillingness: « Of course, there are a number of proverbial rotten apples among them. However, the vast majority, partly due to a language barrier, are simply not sufficiently informed ». Patricia's filling in: « that's why we consulted with the managers of those centers. Together with them and with the help of a driver who provided Arabic translations, we handed out flyers to inform the residents about, among other things, the mouthguard obligation and the lack of the possibility to buy a ticket in the bus. From the number of reports, we can see that this action is having an effect ». Another group Service & Safety gets more reports about are confused people who hang out at stations or on buses. « It's been noticeable lately that mental health services in the country are not running at full capacity, » says Peter.
But no matter what reports or incidents occur, the duo continue to focus on connection rather than polarization. « We are well attuned to each other, » says Patricia laughing. « Sometimes Peter and I look at each other when we respond to a call and know exactly which one of us is best suited to speak. Peter's smiling. « We don't want to play cop all day, » he says. « The trick for us is to inform people and correct them in a polite way. If someone doesn't wear a face mask, they are kindly asked to buy one and then travel with the next bus. We don't write out fines right away, I think this method is much more effective and less frictional ».