Transdev mobility services with the common good at heart
Transdev has not only implemented the necessary security protocols, but also adapts its services every day, precisely following the uses and frequentation of the lines.
To guarantee our passengers the best travel conditions, we facilitate the use of our technologies.
Flowly solution
We can count passengers on board our buses thanks to the Flowly solution. This allows us to adapt our transport offer overnight, almost in real time, according to demand.
Flowly is a patented solution co-developed by Transdev which tracks the evolution of the number of passengers on the lines thanks to sensors detecting smartphone signals. This solution, which completely anonymizes the data collected, already allows us to adapt and regulate the level of our services continuously in the French cities of Avignon, Grenoble, Le Havre, Nîmes, Roanne or Vitrolles. It aggregates data from different sources (own data from sensors, ticketing, counting cameras) and makes it possible to share information efficiently and continuously with our customers. Used at the start of containment, Flowly allowed us during this period to adapt our capacities to the drop-in traffic on our lines.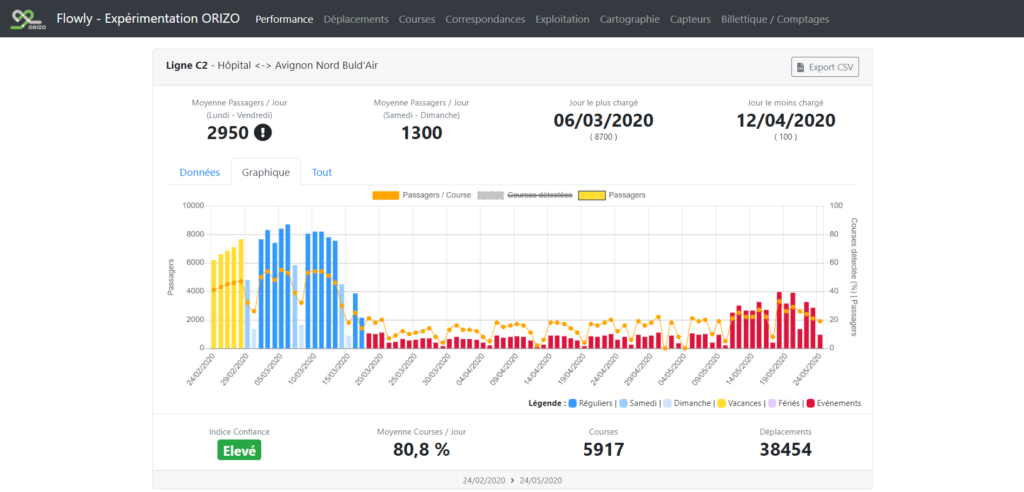 YouTube drops trackers when displaying videos. By clicking on "Authorize", these tracers will be deposited and the video will be displayed. You can withdraw your consent at any time.
Transportation on Demand (ToD) solution
We can offer an almost tailor-made collective transport offer, based on the needs of travelers, thanks to connected Transportation on Demand.
Our connected ToD solutions are usually used in addition to a regular offer (schedules and / or stop on demand). The technological booking solutions that structure this offer are now adapted to be used on a regular offer. Tomorrow, the connected ToD can be set up on peri-urban or inter-urban lines.
YouTube drops trackers when displaying videos. By clicking on "Authorize", these tracers will be deposited and the video will be displayed. You can withdraw your consent at any time.
M2i solution
We inform our passengers in real-time about the availability of vehicles through the "M2i" application, developed by our subsidiary Cityway. In addition to its integrated and predictive multimodal GPS, M2i also allows passengers to interact with each other and with the network.
The application offers travelers from Ile-de-France to share information on traffic conditions in a participatory manner. We are considering access to real-time information on risk situations to avoid ending up in situations where travelers cannot respect the physical distances that are essential to prevent the coronavirus from spreading.
Other solutions
We will display vehicle occupancy levels, wherever possible (applications, real-time information, website, etc.). Our goal is to let everyone know what to expect in terms of traffic and provide passengers with all the data they need to choose their routes.
We can count on the technologies developed by Cityway, implemented in particular in Rouen and Avignon, which integrate data from different solutions: Flowly, Zenbus (which controls the weight of vehicles), or even those declared by drivers on a mobile application.
Our digital innovations at the service of customers
In order to offer powerful digital solutions, we observe customer behaviours as closely as possible. This has allowed us to implement certain technological or methodological elements to optimise our innovations.
The MaaS (Mobility as a Service) (link to the Innovations > Mobilité connectée page) philosophy permeates all our innovations.
We have installed an entire range of CRM tools to support our digital marketing efforts.
We have created a dedicated and transversal Traveller Customer department within our Group.
We have implemented the T.ex and Going for Care programmes, which put the customer at the heart of our activities.
Everything converges on the same idea: each customer has its own needs, emotions and behaviours, which are not always completely rational. Our digital tools and our customer surveys have been designed to allow local authorities and companies, who wish to develop an efficient and user-friendly transport network, to grasp these differences and create an individual understanding of their customers.
T.ex
Because our employees on the ground are best placed to understand the day-to-day experiences of our passengers, we've created the T.ex programme. Its main features? The study, analysis and co-creation of improvement vectors are assigned to the employees themselves. The innovation in the area of customer experience was awarded the 2016 Palme d'Or award for best customer relations from the AFRC (French Customer Relations Association)
A Chatbot to stengthen the communication with our passengers
The Rhônexpress light rail connecting Lyon to Saint-Exupéry airport is experiencing peaks in traffic related to tourist activities and during holiday periods.

Customer relationship teams can then be called upon and the response time is lengthened on traditional communication channels.
In order to continue to ensure optimum response quality and responsiveness with our passengers, our innovation teams have built, in collaboration with Rhônexpress's customer relations teams, a chatbot, an automated client response software, capable of answering the 60 most frequent questions received from travellers by e-mail, Facebook Messenger and Twitter.
This chatbot is present on the Rhônexpress website and customer area. Its integration with the Salesforce tool also allows you to escalate to a support agent, in case of more complex issues.
Deployed in July 2019, it absorbed a large portion of incoming requests. Given its success, it should be extended to other networks within the Group.
comprehension rate (by the chatbot)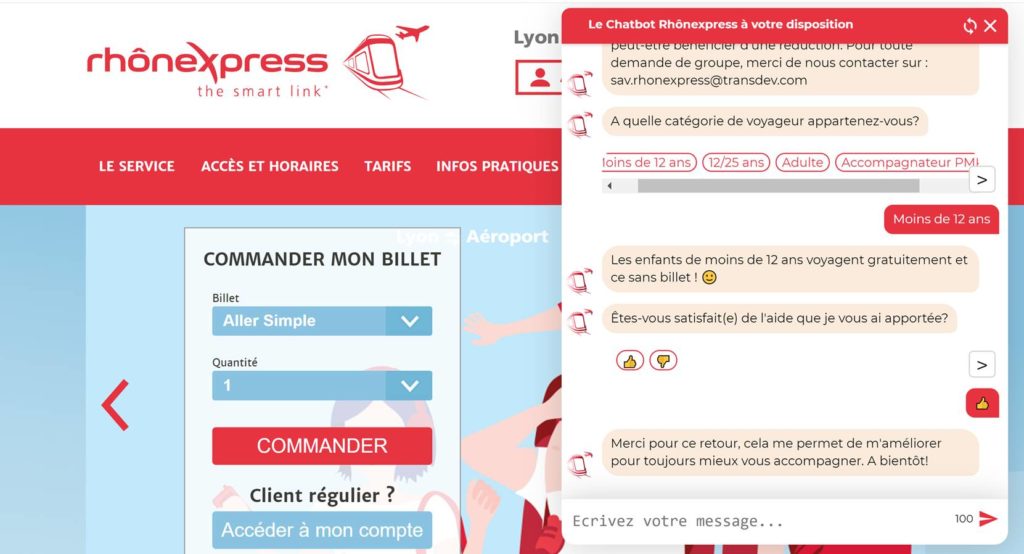 Our employees: the first "sensors" of the customer experience
Developing truly innovative customer knowledge and service tools is impossible without the efforts of our employees; they are the ones who make our quality of service a reality, day after day. Who is better placed than them to understand customer needs and communicate with them?
That is why Transdev will always have a dual approach to the customer experience: while digital innovation is essential to ensuring fluid, personalised and efficient mobility, it must be accompanied by a feedback from our employees and by their understanding of customers on the ground. In our line of business, the human touch remains fundamentally important. Moreover, the Group's values reflect this conviction.
2017 Best Customer Initiative Prize in Spain

In Barcelona, the TRAM tramway operator received the 2017 prize for Best Customer Initiative for its implementation of an efficient organisation for lost objects: the system helps more than 700 passengers every year quickly find their lost objects, and any unclaimed objects are given to charitable organisations.