Manuel Finger's dream of flying has been with him for a lifetime. Born in Paderborn, Germany, he wanted to become a pilot even as a child. As a grown man, he spent his career in the cockpit of large Airbus planes over Europe and Asia. Because of the COVID-19 pandemic, he changed careers and became a train driver at NordWestBahn. Changing from the airplane cockpit to a train driver's cab has brought him even a little closer to his childhood dreams, because his second career dream has always been to be a train driver. More than fulfilling his childhood dreams, Manuel Finger is primarily concerned with his long-term professional existence.
From mechanic to pilot high above the clouds
After completing secondary school, the 37-year-old initially completed a three-and-a-half-year training as an aircraft mechanic at Lufthansa Technik in Hamburg and then worked in the profession for almost two years. In 2009 he began pilot training at the commercial aviation school in Paderborn. The training cost 80,000 euros at the time. But it was only after another five years that the first job in the cockpit came about.
« Then at the end of 2016 I invested another 20,000 euros in what is known as the type rating, » says Manuel. This additional training lasting several weeks was his ticket to the cockpit of the Airbus A320 family and thus to a permanent position at the Germania airline.
Dark clouds on the horizon for the airline
This experienced pilot brought 150 to 220 passengers per flight from the home airport of Münster-Osnabrück (FMO) to the popular tourist destinations in Europe. But the happiness of the childhood dream did not last long, after two and a half years the airline filed for bankruptcy. "That was a shock to me. The news came almost overnight. In the morning I would actually have flown to Grand Canary Islands."
Manuel was not discouraged. After a few months he took up a pilot position in Vietnam. Departure into a completely different world: first alone, and then a few months later he brought his wife and baby to live with him. The young family had originally imagined it to be completely different. When he was reunited, his professional life was exhausting with four flights a day, but family life with his Vietnamese wife was very nice.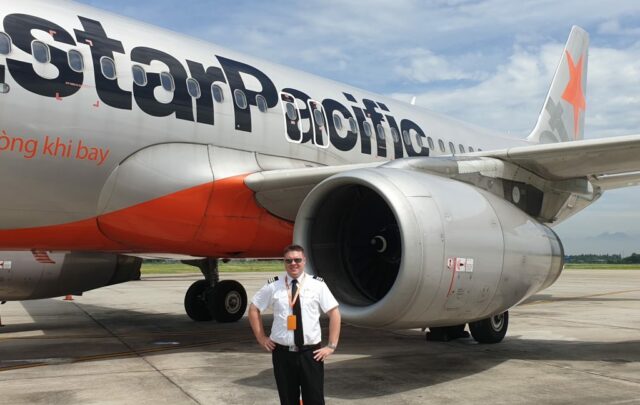 Another abrupt end in spring 2020
The COVID-19 pandemic is bringing air traffic to a standstill worldwide. In Vietnam, as everywhere in the world, there was a two-month shutdown. "We were sent on unpaid leave from one day to the next," says Manuel. The young family was stuck in Vietnam. It wasn't until September that I returned to Germany with great difficulty. There was no hope of being able to start again as a pilot in aviation, which has not only been crisis-ridden by the COVID-19 pandemic. Manuel found a job advertisement for training as a train driver on the NordWestBahn website. Written application, interview, proficiency tests.
Manuel will once again soon be carrying passengers
But then on the rails and not in the air. There are, however, parallels: "Both means of transportation are a great deal of responsibility," Manuel is aware of. Shift work and working hours are also comparable: "I think it's good to work on weekends and then have a day off during the week." Instead of 850 km / h above the clouds, it will soon go through with a speed of 120 km/h through the Ostwestfalen-Lippe region. The mobility and the operation of a large vehicle remain. There are many good reasons why Manuel decided to become a train driver at NordWestBahn: « I was looking for an employer that I could rely on, that would give me secure employment, close to my home and with a reliable salary. »
First the insolvency of Germania in February 2019 and then COVID-19 and the lockdown. Now I want a job with perspective and security.
Manuel Finger, train driver at NordWestBahn