No influx of new drivers, no instruction on the bus and no courses. Since the COVID-19 measures were introduced, the work at the Transdev's subsidiary Connexxion's Training Academy in Haarlem in the Netherlands suddenly became quite different.
Adrie Schalkwijk, Manager of the Academy, however, saw no problems but challenges: « we now have the opportunity to reinvent the Connexxion Academy, we need to make extra use of the time now ».
Adrie, who started out as a bus driver himself, has been in the transportation sector for 37 years now. He joined the Academy in 2006 and has been a Manager since 2012. « People sometimes ask if it's not boring to work for the same company for so long. In my opinion, it's not the same company everywhere, every branch is different, » he says laughing. He knows better than anyone how important it is to train drivers thoroughly and therefore considers driving a bus a real profession: « It's not like people become bus drivers because they can't do anything else. It is a wonderful profession with serious training. Not everyone can do this job just like that. »
For Adrie the past few weeks were a matter of keeping the team 'together'; keeping everyone involved in what's going on, but at a distance. « I am proud of how quickly we have all been able to switch to working remotely, » he says. Thanks to the good cooperation they were able to make steps with 'learning from a distance', which is a similar issue as what schools had to deal with.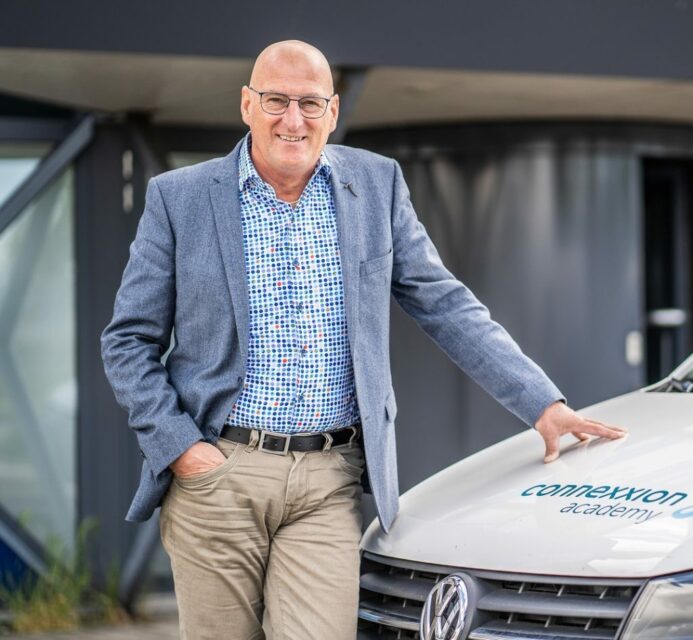 In addition, two new employees have recently started: « Lisette started as Training Coordinator and Willemijn as Driver Training Coordinator. I have great admiration for the fact that they start at a new position in these difficult times, that takes a strong character ». The familiarization of these new employees is something that is now suddenly quite different because of the compulsory distance, he explains: « it takes a lot more time to get them acquainted. Normally you take them to different locations and show them how things are done. Now I must train them separately from each other. One of them started on April 1st, but I haven't seen her 'in real life' since then. A very strange situation. »
Yet suddenly there was the news that from May 11th the training can start again.
We were informed quite late, but we first started with the theory courses and a week later with the practical courses again. We gave the theory lessons in specially adapted classrooms in order to be able to guarantee the distance between them. The Code 95 courses (the professional competence training of drivers) will be moved up a bit, if the timetable is scaled up quickly again, we will probably run into driver shortages. In the past few months there has been no new inflow while the outflow continued, for example of drivers who have retired. So, the Code 95 courses have no priority for a while, we now need the drivers behind the wheel instead of classroom desks.
Adrie Schalkwijk, manager of Connexxion's Training Academy
The Connexxion Academy will therefore play a very important role, says Adrie: « We had almost 80 drivers in training when we suddenly had to put everything 'on hold'. Now we can get back to work, our training simulator will be working overtime!